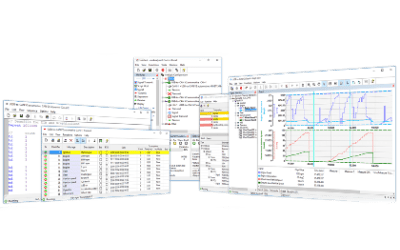 canAnalyser 3 Suite
Powerful, multi-purpose analysis tool for the development, test, and maintenance of CAN, CAN FD, LIN, CANopen, DeviceNet, and SAE J1939 networks. The software package is modular, open and expandable.
Scalable
canAnalyser is available as "Mini", "Lite" and "Standard" version to meet customer requirements in terms of functionality and price in the best possible way.
Versatile
Suitable for CAN, CAN FD, CANopen, SAE J1939, DeviceNet, and LIN based systems – providing higher layer protocol interpretation.
Expandable
The .NET interface of the canAnalyser provides the ability to extend the tool by adding their own modules.
Powerful
Receive and process messages in a timely manner even when busloads and baud rates are high.
Flexible transmission
Stimulation of devices or systems through sending of one-off or cyclical messages and entire command-controlled message sequences.
Logging and online monitoring
Online analysis of message traffic with the interpreted signal display or recording of messages with powerful trigger functions.
Book your product
We are fully committed to providing our customers with the very best products and customer service. We believe in going the extra mile to ensure that each customer is satisfied with our products and solutions. We have the experience and the reputation in the field to deliver the products customers need to expedite their projects and assure quality every step of the way.
Copyright © 2022 Industrial Data Xchange. All rights reserved.