NEXUS
Nexus is a robust, versatile, and next-generation communication hub that incorporates a range of data acquisition hardware and software providing any combination of monitoring, control, and data logging functionality to suit your specific application.
Fast, Flexible, Reliable & Intelligent Data Acquisition & Control System
Nexus addresses the challenge of harvesting data that is tucked away in disparate systems or behind little-understood communications protocols. Encompassing an intuitive data management hardware and software platform, Nexus helps industries to simplify data management. It is quick and easy to configure and can be customised specifically for your application including custom-made reports, personalised logging sequences, and bespoke alarm functions. Our solutions give you complete control over your data with simplicity, efficiency, and flexibility.
Perfect for an OEM, developer, or industrial hobbyist looking for an end-to-end flexible remote monitoring solution. 
Nexus Data Historian
A framework for plant data integration and performance monitoring.
Visualise and explore your plant data using intuitive, facet-driven navigation and effortlessly connect logs with host metrics and application data.
The Historian supports several data compression algorithms that handle offline data buffering and can scale from a few too many thousand tags per second.
Nexus IIoT
Nexus IIoT comprises of Fleet management and Remote Monitoring.
Fleet Management enables data harvesting, monitoring, and control of heavy-duty machinery and includes a dynamic modular design for both hardware and software.
Our flexible remote monitoring system allows you to monitor equipment and machinery from afar and hard-to-reach locations with automated data collection.
Nexus IO
The Nexus IO enables protocol conversion, historical data logging, and data visualisation.
Exchange real-time data between most protocols, devices, ERP systems, and commercial cloud service platforms. 
When paired with the Data Historian, it creates a powerful data processor, and tag management tool with advanced analytics and a user-friendly interface.
Nexus LegacyGate
Comprises of two specialist Legacy Gateways that we developed, i.e. Starnet Gateway and ifm VSE Gateway.
These gateways are a flexible and cost-effective solution for companies that are looking to build a bridge in their infrastructure.
The devices offer advanced features delivering operational productivity and reliability from the moment it is installed.
Integration and Configuration
Nexus can be used as a standalone unit or it can be configured to act as a gateway between proprietary protocols and standard industrial protocols.
For example, two different weigh scales speaking their own ASCII protocol over RS-232, can be made to appear as a single MODBUS device. This would use three of the four on-board interchangeable channels. Devices communicating over serial CAN and Ethernet can all be integrated this way.
Real-time Data Management
Nexus is powered by IDX Suite and its modular design of both hardware and software allows for extremely flexible monitoring of your data.
Nexus through combining hardware and software enables real-time data exchange of any, but mainly automation, building and industrial, data along with data logging into the IDX Data Historian as well as full Cloud integration via MQTT and OPC UA.
Architecture
Flexible and open architecture
Customisable
Log, trend and alarm your data locally (EDGE based processing)
Communication
Wireless, GPRS and Bluetooth
Reporting
Integrated reporting and advanced analytics capabilities
Cloud Capability
Transfer key data points to cloud and server-based platforms
Temperature
Designed with components rated for -40°C to 85°C
Interfaces
RS-232, RS-485, CAN, 4-20 mA, 20 mA digital, inclinometer, accelerometer and Ethernet
Technologies supported
GPS, WiFi, 3G, LoRa, serial, onboard analog and digital interfaces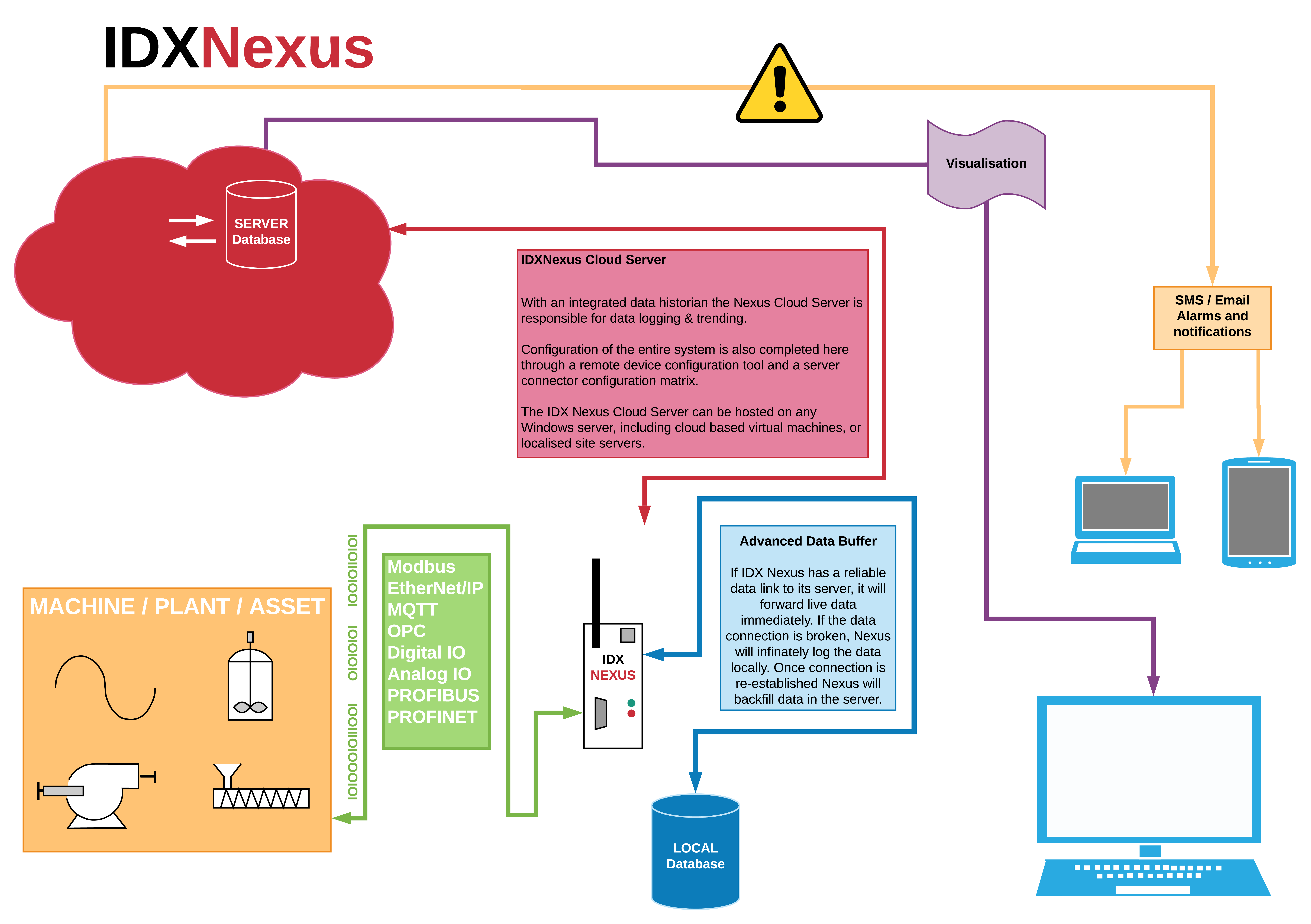 Let us take the case of trying to understand what is going on with the complex protocols and data management systems on your site. The parameters that might be of interest to you may include warnings such as oil temperature and pressure, running hours and rpm, kWh, flow, level, equipment condition indicators so that it can be understood when a specific vehicle or asset needs to come in for maintenance say or a part needs to be ordered or if the asset is being misused.
The chances are that there are different makes of vehicles on your site, each with their own way of exposing data (Modbus, CAN, J1939, Serial, etc). Nexus allows flexible data collection so it can be adapted to monitor different communications protocols through its modular design.
Each asset would be equipped with a Nexus Unit. This hardware is designed to communicate with the well-established Nexus Software through various wireless technology options depending on the site layout.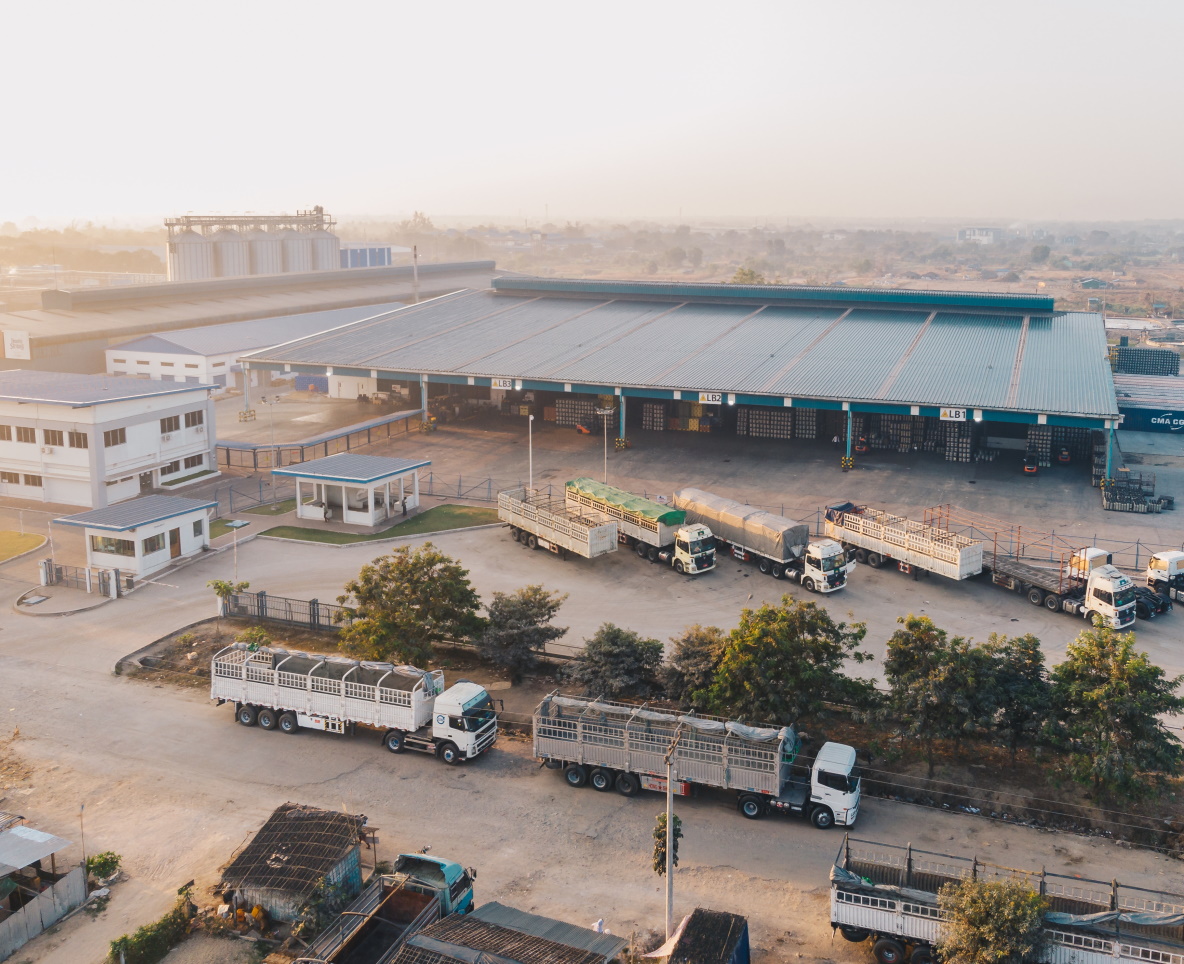 TCP/IP Client | TCP/IP Server
MODBUS IP Master | MODBUS IP Slave
MODBUS Serial Master | MODBUS Serial Slave
PROFIBUS Master | PROFIBUS Slave
MODBUS IP Master | MODBUS IP Slave
TCP/IP Client | TCP/IP Server
StarNET ESP Controller | StarNET ESP Tributary
StarNET HDLC Master | StarNet HDLC Slave
OPC DA Client | OPC DA Server
MQTT Subscriber | MQTT Publisher
Empowered by Innovation and a desire to satisfy
We are a company with a global focus and believe that business is about partnerships and that partnerships are about trust. We offer a full range of industrial data communication solutions for demanding applications. Contact us for all of your industrial connectivity issues.