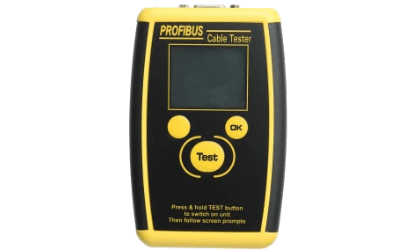 Handheld cable tester for finding common PROFIBUS cable faults
This compact handheld device checks for the most frequently found cable connection faults seen with PROFIBUS DP wiring between pairs of 9-pin D-sub PROFIBUS plugs and over daisy-chained PROFIBUS cables.
Fault finding and connection testing
The software checks for and reports open lines, short circuits between cores, shorts between screen and cores, and crossed connections, reporting any such failures on a red background, with a sound signal and text details shown on the front panel colour display. Correct connection test results are reported on a green screen, with a different sound signal, and show the number of activated terminator switches detected on the tested cable. If 3 or more terminators are detected this is reported as a fault.
Fault details are emphasised by the display of associated conductor colour information, showing green background for A-line, red background for the B line, and black for the cable screen/shield.
In addition to connection testing, the unit also allows test tone output onto the PROFIBUS A-line, to enable clear separation of IN and OUT cables at a remote location before connection to plug or another unit. Correct orientation of cables within all PROFIBUS plugs and slaves is very important. A tone detector is included for the identification of these signals: this unit, as shown in the following photo, includes a separate tone generation module for tracing LAN, telecom, or other wires. Both modules are powered by button cells which are included.
The HP-25 Tester is powered by a single 9-volt PP3 battery, with re-chargeable versions also suitable. This tester is only suitable for use on totally unpowered cables.
Power

9-volt dry battery – 4 to 12 mA current
(actual current depends on selected display brightness)

Tested Cable Length


1 to 1,000 meters

Item

Dimensions in mm

Weight in grams
HP-25 Cable Tester
118 x 77 x 24
168 (with battery)
Tone Detector
195 x 47 x 30
122 (with batteries)
Cable end test plug
45 x 31 x 16
20
Battery (PP3)
48 x 25 x 16
45
All above, packed to ship, incl. hard case
300 x 190 x 85

750 (with 2 x PP3)
The HP-25 kit is supplied with the silver end of cable test plug, two 9 volt PP3 batteries, and tone detector, all in a strong hard carry case.
Book your product
We are fully committed to providing our customers with the very best products and customer service. We believe in going the extra mile to ensure that each customer is satisfied with our products and solutions. We have the experience and the reputation in the field to deliver the products customers need to expedite their projects and assure quality every step of the way.
Copyright © 2022 Industrial Data Xchange. All rights reserved.