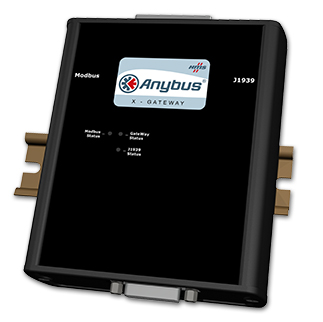 The Anybus X-gateway J1939 Gateway provides connectivity between a Modbus RTU (serial) network and a J1939 Heavy Duty vehicle (CAN) network. The X-gateway appears as a Modbus Slave device allowing a Modbus Master to read or write data from the J1939 network.
HMS provides the X-gateway with a free Windows based configuration tool (BWConfig). This PC based software allows the user to map J1939 parameter (PGN) data into a range of memory addressable through the Anybus X-gateway Modbus RTU interface.
Easy Configuration – No programming required!
Configuration of the X-gateway is simple using BWConfig and consists of setting up an I/O table containing selected J1939 PGNs and the rate that each will be read or written from the J1939 network. BWConfig will then automatically map the I/O table to a range of addresses accessible from the Anybus X-gateway Modbus RTU interface.
The configuration is downloaded from the PC to the Anybus X-gateway via an RS232 connection and is saved in FLASH memory.
Monitor and control data on a J1939 heavy duty vehicle network from Modbus RTU PLC system or device
Typical applications: Electric Power Generation, Oil & Gas, Marine, Military, Heavy Duty Vehicles, Any Diesel Engine based system supporting J1939
Max 500 bytes of I/O data in each direction
Easy configuration via the included BWConfig Windows Software. No programming required
Robust aluminum stand-alone housing
Global free technical support and consultancy
Modbus RTU network address settings made via on-board configuration switches 
Complete Modbus RTU slave functionality
Max 512 bytes of Input and 512 bytes of Output data
Modbus diagnostics support
Configuration via on-board DIP switches
Modbus RTU baudrate 12-57,6 kbit/s
1x D-sub 9-pin female network connector
SAE J1939 network interface with a unique network address in accordance to the J1939-81 specification
Max 496 bytes of I/O Input data and 492 bytes of I/O Output Data
Up to 120 PGN's monitored by Input data points
Up to 100 PGN's  transmitted by Output data points  
Supports J1939 network baud rates of 250K and 500K
Transmission and reception of all types of fixed-length J1939 messages, including PDU1, PDU2, broadcast and destination specific
Monitoring of DM1 (active diagnostics) and DM2 (previously active diagnostics) messages
Complete network address management including address claim, protection, and yield on higher priority conflict
Network address can be self-configurable over a range of addresses
J1939 Transport Protocol for transmission and reception of large messages (9 – 1785 bytes). Both connection based (RTS/CTS) and broadcast (BAM) are supported
Configurable CAN bus-off reset option will reset the network interface and attempt to return to online when a CAN bus-off condition is detected
1x 5-pole 5.08 mm Phoenix pluggable screw connector for J1939
| | |
| --- | --- |
| Dimensions (L•W•H)   | 114 x 44 x 127mm or 4,49 x 1,73 x 5,00″ |
| Weight | 400g or 0,880 lbs |
| Operating temperature | -25 to +65 °C  or  -13 to +149 °F  |
| Storage temperature | -40 to +85 °C  or  -40 to +185 °F  |
| Power supply | 24 VDC +/- 20% via 2-pole 5.08 mm Phoenix pluggable screw connector   |
| Current consumption     | max. 400mA (Typical 200mA) |
| Enclosure material  | Aluminium and plastic |
| Installation position | Vertical / Flat* |
| Galvanic isolation | YES, on both BUS/Ethernet side |
| Mechanical rating | IP20, NEMA rating 1 |
| Mounting | DIN-rail (EN 50022 standard) |
| I/O configuration | via USB port with Anybus Configuration Manager software |
| Certifications | CE, CULUS, RoHS |
Order Code 
AB7612
Included components

 

           

Gateway
Quick start documentation
USB configuration cable


Power supply not included

Configuration software is available for download.
Book your product
We are fully committed to providing our customers with the very best products and customer service. We believe in going the extra mile to ensure that each customer is satisfied with our products and solutions. We have the experience and the reputation in the field to deliver the products customers need to expedite their projects and assure quality every step of the way.
Copyright © 2022 Industrial Data Xchange. All rights reserved.