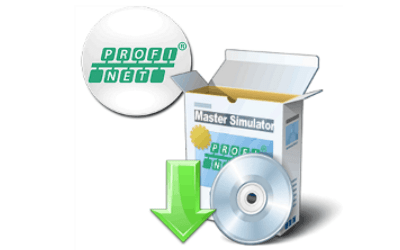 A cost-efficient alternative to a PLC or PC-card
The Master Simulator is an easy to use tool to test the PROFIBUS functionality of any Fieldbus device. Two versions are available, one basic version for PROFIBUS-DP only, and a full version for both PROFIBUS-DP and DPV1. The automatic Slave identification functionality permits communication to almost any PROFIBUS slave device even if the normally required GSD file is not available. So it is possible, to initialize a slave device step by step and finally read or write the I/O data.
The Master Simulator also permits the address assignment of the Profibus slaves via the bus and to display and analyse diagnostic messages of Profibus slaves on the screen. The connection to the Profibus interface of the slave device is made via an RS-232 to Profibus converter, which is built-in into a small D-SUB connector housing. This converter is connected to the PC´s COM-Port via a serial connection cable.
Easy to use test and diagnostic tool for PROFIBUS DP/DPV1 slaves
Read / Write of cyclic I/O data in various formats
The DPV1 version permits acyclic parameter read/write access
Automatic Profibus slave address search
Automatic detection of I/O data size
Display of standard Profibus diagnostic messages
Works also without GSD file
No programming required
No external power supply required
Ideal for mobile usage with laptops running Win98, 2000, ME, XP, Vista, 7, 8
Dimensions  (L•W•H)

62 x 34 x 15
    
Operating temperature
-0 to +55 °C
 
Power supply
5 Volt / 60 mA taken from the PROFIBUS interface of the device
 
Max cable length
2 meters
 
Baudrate
19.2 kbit/s
 
PC connection via
COM port (RS-232)
 
PC requirements
Win 9X/2K/ME/XP/7
 
Certifications
CE, RoHS
Order Code: 017504 (PROFIBUS-DP ONLY) – 017505 (PROFIBUS-DP/DPV1)
Included Components:
PROFIBUS Master Simulator software CD

Connection cable to connect the converter to a




PC COM-Port and an RS-232/ PROFIBUS converter
Optional Accessories:
USB-RS-232 configuration adapter (Order Code: 019570)
Guarantee:  1 year
Book your product
We are fully committed to providing our customers with the very best products and customer service. We believe in going the extra mile to ensure that each customer is satisfied with our products and solutions. We have the experience and the reputation in the field to deliver the products customers need to expedite their projects and assure quality every step of the way.