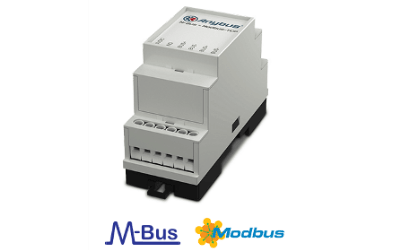 Get M-Bus meter data on electricity, water, gas, 
etc. into a Modbus TCP PLC system (Up to 80 M-Bus Loads)
The Anybus M-Bus to Modbus TCP gateway allows M-Bus devices to communicate on a Modbus TCP network. The gateway decodes M-Bus telegrams making it possible to map meter values to Modbus registers. This enables central control and supervision of measuring devices which usually use the M-Bus protocol.
Get a complete system overview
By getting data on consumed electricity, water, gas, etc. straight into your PLC system, you can get a complete overview of your site in a SCADA system, including building parameters which otherwise have to be checked separately.
Access other networks – pair with an Anybus X-Gateway
You can also connect your M-Bus devices to any other industrial network by pairing the M-Bus gateway with an Anybus X-gateway for Modbus TCP. Connect to Rockwell Logix, Siemens, Mitsubishi PLC's, and more.
Easy configuration – no programming required
The accompanying web-based configuration tool allows you to set up the gateway in an easy-to-use web interface. No programming is necessary.
Get data on your consumption of electricity, water, or gas onto a Modbus TCP network
Enable total overview of your site's consumption, including building parameters (electricity, water, gas, etc.) into a SCADA system
No hardware or software changes are required for the connected M-Bus device
Two versions available supporting connection up to 20 or 80 M-Bus Loads
Connect to other networks and PLC systems by combining with an Anybus X-gateway and access 10 additional industrial networks
Easy web-based configuration tool. No programming required.
Global free technical support and consultancy.
M-Bus Master interface compliant with EN 13757-2
Connects to 50 M-Bus Loads
Conforms to Modbus Appl. Protocol Spec. V1.1b
Connects up to 5 Modbus TCP Clients
100 Mbit/s

Dimensions (L•W•H)
89 x 35 x 58 mm or 3,50 x 1,38 x 2.28 inches
                          
Weight
80g or 0,18 lbs
Operating temperature
0 to +50 °C  or  32 to +122 °F
Power supply
24 ±5 VDC
 
Power consumption
2 W idle state, 10 W max.
Ethernet connector
1x shielded RJ45 100 Mbit/s
M-Bus connector
5-pin screw terminal, max. 2.5mm²
Galvanic isolation
On Ethernet side
Mechanical rating
IP20, Plastic housing
Mounting
DIN-rail (EN 50022 standard)
Certifications
CE
ORDER CODES
025070 (Up to 80 M-Bus Loads)
Included components
Quick start guide, manuals.
(Power supply not included)
Required software

IP-settings are made using the configuration tool "Netdiscover".

Downloadable under "Files and Documentation" from this website.

Guarantee
3 years
Book your product
We are fully committed to providing our customers with the very best products and customer service. We believe in going the extra mile to ensure that each customer is satisfied with our products and solutions. We have the experience and the reputation in the field to deliver the products customers need to expedite their projects and assure quality every step of the way.
Copyright © 2022 Industrial Data Xchange. All rights reserved.