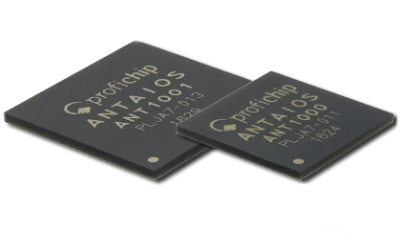 Unlimited Networking
The ANTAIOS combines a powerful ARM Cortex-A5 processor for advanced user applications with an effective and very flexible communication technology for today´s industrial applications demanding sophisticated real-time capabilities. It is designed for remote-IOs, gateways, sensors, actors, and communication master/slave modules.
High-performance real-time Ethernet communication protocols
ANTAIOS primarily focuses on the efficient and flexible implementation of high-performance real-time Ethernet communication protocols such as EtherCAT, PROFINET IRT, or TSN/OPC UA.  The real-time Ethernet unit is programmable and is, therefore, able to support all Ethernet-based protocols. This enables quick reaction to any protocol changes and offers a high degree of flexibility and security in the future, as new features can be conveniently retrofitted via software (microcode). It means ANTAIOS is ready now for any TSN extensions that are coming up and whatever future challenges Industry 4.0 and IIoT may bring.
Setting it apart from other implementations, the I/O data is available via a hardware interface (consistency interface). Slow access times via software callback functions and long copy routines are a thing of the past. This makes the I/O data available in real-time. Furthermore, the user has the option to separate the PROFINET consumer/provider states from the I/O data via the consistency interface. A convenient extra function is that the data can be re-sorted into virtually any order by the hardware and converted into the desired target format, which also eliminates time-consuming software routines.
Additionally, a unique feature of this SoC is the high-speed backplane-communication-master for Profichip SliceBus Technology. It provides fast and reliable communication for up to 64 Profichip SNAP+ slave controllers.
PROFIBUS and CAN support is guaranteed by special hardware modules and can be active in parallel to the sophisticated, programmable real-time Ethernet Switching Unit. A third (Gigabit-)Ethernet port rounds up the rich set of communication capabilities making the ANTAIOS an ideal choice for any kind of communication challenge.
ARM® Cortex® A5 processor, 32/32kB cache, 288MHz

2-port real-time Ethernet switch with integrated PHYs

Gigabit Ethernet MAC with external PHY
DDR2 SDRAM (max. 256 MB)
QuadSPI controller (96 MHz)
Parallel host interface consisting of:
Consistency interface for I/O data
FIFO interface for acyclic functions
Serial host interface:
SPI slave (max. 24 Mbps)
High-speed UARTs (up to 12 Mbps)
Classic fieldbuses:
PROFIBUS Master
PROFIBUS Slave
CAN
SliceBus Master:
I/O system with up to 64 modules
Baudrate 48MBit/s
Free development environment:
eCos3.0 operating system
GNU GCC compiler 5.4.0
Two package variants:
TFBGA-380 / 15×15 mm / 0.65 mm pitch
TFBGA-385 / 19×19 mm / 0.8 mm pitch
PROFINET I/O Controller RT
PROFINET I/O Device RT/IRT
EtherCAT (Master & Slave)
EtherNet/IP Adapter
ModbusTCP
Mechatrolink III (Master & Slave)
Mechatrolink IV (Master & Slave)
more on request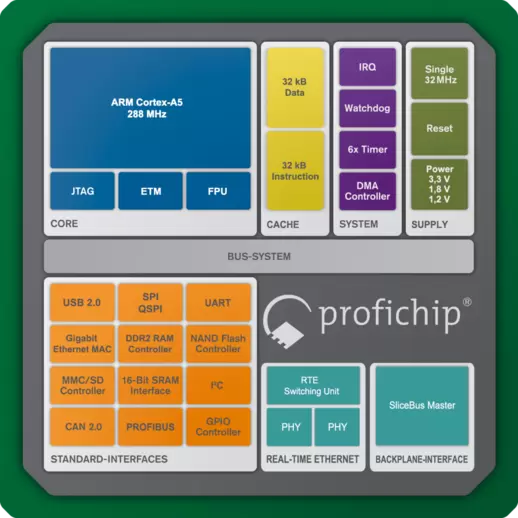 Book your product
We are fully committed to providing our customers with the very best products and customer service. We believe in going the extra mile to ensure that each customer is satisfied with our products and solutions. We have the experience and the reputation in the field to deliver the products customers need to expedite their projects and assure quality every step of the way.