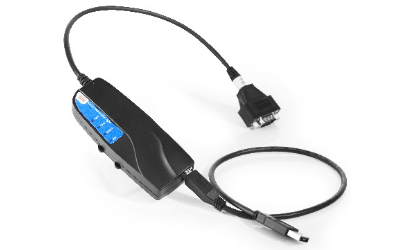 A dual-channel CAN bus interface and standalone data logger
Kvaser Memorator Pro 2xHS v2 is a professional-level, dual-channel CAN bus interface and standalone data logger offering advanced features such as message filtering, triggers, error detection and generation, silent mode, an expandable SD card slot up to 64G, and galvanic isolation.
Connected to a PC with USB2.0, the Kvaser Memorator Pro 2xHS v2 operates as a powerful real-time CAN to the USB interface, whilst in data logger mode, the compact design of this device makes for the perfect flight recorder.
Configurable using Kvaser's Memorator Config Tool, this device is capable of running user-developed scripts, written in the Kvaser t programming language. Guidance in creating t programs is provided. The Kvaser Memorator Pro 2xHS v2 is CAN FD compliant.
Major Features:
Monitor two CAN channel simultaneously using just one device.
Log data to an expandable SD card slot.
Supports CAN FD up to 8Mbit/s (with proper physical layer implementation).
Script functionality allows users to develop customised t-script applications written in the Kvaser

 

t

 

programming language.
Power derived from the USB connection, CAN, or an in-built power supply.
Supports silent mode for analysis tools – listens to the bus without interfering.
Detection and generation of error frames and remote frames.
LED lights alert the user to device status, including signalling a full SD card or card error.
Galvanically isolated CAN bus drivers.
Automatically time synchronises the data transmitted and received across both buses.
Built-in Kvaser MagiSync™ technology time synchronises with other Kvaser interfaces connected to the same PC, resulting in simpler and more accurate multichannel data capture.
Extended operating temperature range from -40 to 85 °C.
NOTE:  This product ships with 16GB Industrial Grade SDHC cards (-40 to +85°C) included.

 

Additional storage cards

 

may be purchased on Kvaser.com.
Compatible with J1939, CANopen, NMEA 2000®, and DeviceNet.
Plug and play installation, and a comprehensive user guide to help make t script development quick and easy.
Support for SocketCAN, see

 

elinux.org

 

for details.
Warranty
Software
Documentation, software, and drivers can be downloaded for free at www.kvaser.com/downloads.
Kvaser CANLIB SDK is a free resource that includes everything you need to develop software for the Kvaser CAN interfaces. Includes full documentation and many program samples, written in C, C++, C#, Delphi, Java, Python, and Visual Basic.
All Kvaser CAN interface boards share a common software API. Programs written for one interface type will run without modifications on the other interface types!
J2534 Application Programming Interface available.
RP1210A Application Programming Interface available.
On-line documentation in Windows HTML-Help and Adobe Acrobat format.
BITRATE: 50-1000 kbps
CATEGORIES: Hardware, Dataloggers
CERTIFICATES: CE, RoHS
CHANNELS: 2
CONNECTORS: DSUB 9
CURRENT CONSUMPTION: Up to 3W
ERROR COUNTERS READING: Yes
ERROR FRAME GENERATION: Yes
GALVANIC ISOLATION: Yes
HEIGHT: 23 mm
INCLUDED CARD SIZE: 16GB
INTERFACES: USB
LENGTH: 150 mm
MATERIAL: PA66
MAX CARD SIZE: 64+
MESSAGES PER SECOND RECEIVE: 20000 mps
MESSAGES PER SECOND SENDING: 20000 mps
OS: Win 7, Win Vista, Win 10, Win 8
SILENT MODE: Yes
SOUND: No
TEMP RANGE: -40 °C to +85 °C
TIMESTAMP R (µ): 1 µs
WEIGHT: 150 g
Book your product
We are fully committed to providing our customers with the very best products and customer service. We believe in going the extra mile to ensure that each customer is satisfied with our products and solutions. We have the experience and the reputation in the field to deliver the products customers need to expedite their projects and assure quality every step of the way.