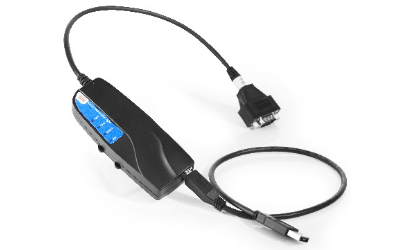 An easy-to-use tool for logging serial data, with no software setup required
Designed for troubleshooting any CAN-based (controller area network) system, the Kvaser Memorator Light HS v2 is an easy-to-use tool for logging serial data, with no software setup required. With an autobaud function that determines CAN bus bit rate, the Kvaser Memorator Light can be attached to any high-speed CAN bus without configuration.
All CAN bus traffic is logged in a circular buffer, overwriting the oldest data when the buffer becomes full. A separate circular buffer keeps track of error frame conditions and the message traffic that occurs near the conditions.
Major Features
Single high-speed CAN channel (compliant with ISO 11898-2).
Supports both 11-bit (CAN 2.0A) and 29-bit (CAN 2.0B active) identifiers.
Supports bit rates from 50 Kbit/sec up to 1 Mbit/sec.
Autobaud function determines CAN bus bit rate.
Always in silent mode – log bus traffic without interfering.
Fixed 1GB internal storage.
Two FIFO buffers; one log all messages on the bus, the other buffer logs approximately 1000 messages before and after an error frame.
Built-in real-time clock (calendar) with battery backup.
LEDs alert the user to device status.
Software
Documentation, Kvaser CANlib SDK, and drivers can be downloaded for free at www.kvaser.com/downloads.
Kvaser CANlib SDK is a free resource that includes everything you need to develop software for the Kvaser CAN interfaces. Includes full documentation and many program samples, written in C, C++, C#, Delphi, Visual Basic, Python, and t programming language.
Kvaser CAN hardware is built around the same common software API. Applications developed using one device type will run without modification on other device types.
The Kvaser Memorator Config Tool provides easy access to the recorded data when connected to the device via a USB port. The tool supports multiple formats used by the popular analysis software. In addition, the extraction software allows the user to clear and reinitialise the device's memory.
Warranty
BITRATE: 50-1000 kbps
CATEGORIES: Interfaces, Hardware, Dataloggers, CAN
CERTIFICATES: CE, RoHS
CHANNELS: 1
CONNECTORS: DSUB 9
CURRENT CONSUMPTION: up to 3W
ERROR COUNTERS READING: No
ERROR FRAME GENERATION: No
GALVANIC ISOLATION: No
HEIGHT: 22 mm
INCLUDED CARD SIZE: 128MB
INTERFACES: USB
INTERNAL MEMORY: 1
LENGTH: 127 mm
MATERIAL: PC-ABS
MESSAGES PER SECOND RECEIVE: 20000 mps
MESSAGES PER SECOND SENDING: 20000 mps
OS: Linux, Win 7, Win Vista, Win 10, Win 8
SILENT MODE: Yes
SOUND: No
TEMP RANGE: -40 °C to +85 °C
TIMESTAMP R (µ): 2 µs
WEIGHT: 150 g
Book your product
We are fully committed to providing our customers with the very best products and customer service. We believe in going the extra mile to ensure that each customer is satisfied with our products and solutions. We have the experience and the reputation in the field to deliver the products customers need to expedite their projects and assure quality every step of the way.