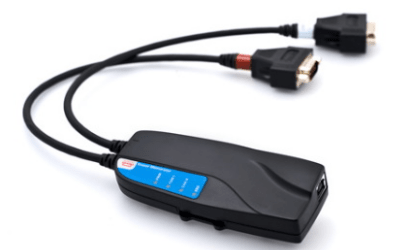 A dual-channel, intermediate performance, CAN (controller area network) bus interface, and standalone data logger
Kvaser Memorator HS/SWC is a dual-channel, intermediate performance, CAN (controller area network) bus interface and standalone data logger. This device has one CAN channel for High-Speed CAN and the second for Single-Wire CAN.
In interface mode, it connects to a PC with USB1.1. As a data logger, Memorator makes for a perfect flight recorder due to its compact design. Logging data to a standard SD card (supplied) or MMC disk; triggers, filters, etc. can be set via our user-friendly configuration program and stored on the flash disk.
Major Features
One device for desktop and laptop. Quick and easy plug-and-play installation.
Supports both 11-bit (CAN 2.0A) and 29-bit (CAN 2.0B active) identifiers.
CAN messages are time-stamped with 10 microseconds resolution.
Large onboard RAM buffer for CAN messages.
Supports "listen-only" mode for bus analysis tools.
Driver support for major operating systems.
100% compatible with applications written for Leaf, LAPcan, PCIcan, PCcan and USBcan with Kvaser's CANlib.
One SD/MMC slot that accepts SD or MMC flash disks, currently up to 1 GB.
One CAN connection ISO-11898 high-speed, 50kbit/s up to 1 Mbit/s (Philips TJA1050), plus second single-wire CAN connection.
One USB 1.1 connection (12 Mbit/s). This connection is compatible with USB 2.0.
Power from CAN bus or from the USB side.
Built-in real-time (calendar) clock with battery backup.
Logger status is indicated with four externally visible LEDs.
Plastic housing with dimension WLH about 509025 mm (circa 2 x 3,5 x 1 inch).
NOTE:  Product ships with Commercial Grade SD card (-20 to +70°C).  Industrial Grade SD cards (-40 to +85°C) are available for additional purchase. 
Warranty
Software
Documentation, software, and drivers can be downloaded for free at www.kvaser.com/downloads.
Kvaser CANLIB SDK [link} is a free resource that includes everything you need to develop software for the Kvaser CAN interfaces. Includes full documentation and many program samples, written in C, C++, C#, Delphi, and Visual Basic.
All Kvaser CAN interface boards share a common software API. Programs written for one interface type will run without modifications on the other interface types!
J2534 Application Programming Interface available.
RP1210A Application Programming Interface available.
On-line documentation in Windows HTML-Help and Adobe Acrobat format.
Triggers
Kvaser Memorator can log continuously, or logging can be triggered by external triggers (rising or falling edge) and/or by messages and signals on the CAN bus (triggered by identifier, or data contents.) Pre- and post-triggers are available.
Filters
To enhance logging performance, Kvaser Memorator can filter out selectable messages to be logged. The identifiers can be picked from a database, or all messages can be logged.
Memory cards
Standard MMC or SD type flash memory cards can be used. Larger memory cards, up to 1 GB, can be used. See our support pages for more information.
Configuration software in the PC:
Configuration of the CAN controller, i.e. bit rate and filters.
Configuration of the trigger conditions.
Configuration of filter for messages to be stored.
Configuration upload and download via USB.
BITRATE: 5-1000 kbps
CATEGORIES: Hardware, Dataloggers
CERTIFICATES: CE, RoHS
CHANNELS: 2
CONNECTORS: DSUB 9
CURRENT CONSUMPTION: 1W
ERROR COUNTERS READING: Yes
ERROR FRAME GENERATION: Yes
GALVANIC ISOLATION: No
HEIGHT: 25 mm
INCLUDED CARD SIZE: 128MB
INTERFACES: USB
LENGTH: 90 mm
MATERIAL: PC-ABS
MAX CARD SIZE: 1
MESSAGES PER SECOND RECEIVE: 12000 mps
MESSAGES PER SECOND SENDING: 6000 mps
OS: Win XP, Linux, Win 7, Win Vista, Win 10, Win 8
SILENT MODE: Yes
SOUND: No
TEMP RANGE: -25 °C to +85 °C
TIMESTAMP R (µ): 30 µs
WEIGHT: 150 g
Book your product
We are fully committed to providing our customers with the very best products and customer service. We believe in going the extra mile to ensure that each customer is satisfied with our products and solutions. We have the experience and the reputation in the field to deliver the products customers need to expedite their projects and assure quality every step of the way.