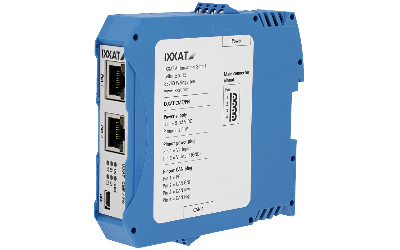 PROFINET CANopen Gateway
The IXXAT CME/PN is a powerful and easily configurable gateway for connecting CANopen devices and networks to PROFINET systems.
The gateway enables bi-directional data exchange allowing for both the integration of existing, low-cost CANopen devices into PROFINET systems as well as the provision of data from PROFINET for use in CANopen.
Easy configuration using the included IXXAT configuration tool
Bi-directional data exchange for PROFINET/CANopen
Integrated 2-port switch
Configuration via Ethernet or USB
The gateway operates as a PROFINET I/O device and uses slots and sub-slots for data exchange. On the CANopen side, the device acts as a CANopen NMT master with PDO and SDO support. 
The gateway configuration is accomplished easily by using the IXXAT configuration tool which is included free of charge. The configuration tool automatically generates a CDC configuration file for the CANopen network as well as a GSDML file for Profinet.
The CANopen configuration is based on EDS files. The GSDML file allows for simple gateway integration into PROFINET networks and the access of PLC applications to the gateway. At this, the gateway is represented as a single I/O device. All data on the CANopen side which is exchanged through the gateway with the PROFINET network are defined in the GSDML file as variables with the variable name, data size and data direction. This unprecedented dual side approach simplifies the configuration significantly. 
The gateway has an integrated 2-port switch, thus allowing easy integration into line topologies. The connection to the CANopen bus and the power supply is made using screw terminals. Device configuration and firmware upgrades can be made via a USB 2.0 port or remote via the Ethernet port.
| | |
| --- | --- |
| CPU | STM32F407 |
| PROFINET interface | 2 x 100 Mbit/s Ethernet via RJ45 plugs |
| Switch | Integrated 2 port switch |
| CAN bus interface | Galvanically isolated. Connection via screw terminals. |
| Configuration interface | USB or remote via Ethernet |
| Temperature range | -20 ºC … +70 ºC |
| Power supply | 9-32 V DC, 3 W |
| LEDs | Power, Host status, Module status, Protocol status, CAN run status, CAN error status |
| Certification | CE, FCC |
| Housing | Plastic housing for top hat rail mounting |
| Size | approx. 22,5 x 100 x 115 mm |
Product code
| | |
| --- | --- |
| 1.01.0261.02106 | IXXAT CME/PN |
In the box
Ixxat CME/PN
User manual
Ixxat configuration tool
Book your product
We are fully committed to providing our customers with the very best products and customer service. We believe in going the extra mile to ensure that each customer is satisfied with our products and solutions. We have the experience and the reputation in the field to deliver the products customers need to expedite their projects and assure quality every step of the way.
Copyright © 2022 Industrial Data Xchange. All rights reserved.