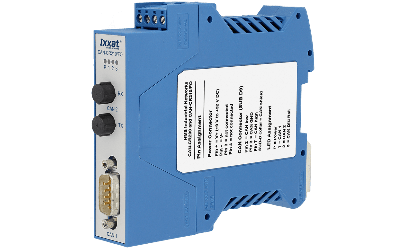 Stackable converter from ISO 11898-2 to fiber optic cable
Ixxat repeaters are used to establish a physical coupling of two or more segments of a CAN or CAN FD bus system. They can be used to implement tree or star topologies as well as for long drop lines. In addition, network segments can be electrically decoupled using a galvanically isolated repeater.
The CAN-CR210 is used for galvanic isolation of two segments of a CAN / CAN FD network. As a special feature, the repeater separates a defective segment from the rest of the network, allowing the remaining network to continue working. After the fault has been eliminated, the segment is automatically switched back to the network. The galvanic isolation is provided for the CAN / CAN FD segments as well as for the power supply.
Increase reliability
CAN and CAN FD repeaters increase your system reliability with almost no influence on real-time behavior.
For harsh environments
Ixxat repeaters decouple CAN or CAN FD segments galvanically up to 4 kV and are also available as variants with fiber optics.
Save costs
Easier wiring and reduction of cables reduces the cost of your system.
DIN-Rail backbone bus to line up and connect the devices easily
Fiber optic enables transmission in areas with high electromagnetic disturbances
Increased system reliability
Almost no influence on real-time behavior
CAN-CR210/FO
Quick reference
Accessories (not included)
T bus connector for creating star/tree topologies
| | |
| --- | --- |
| Display | Transmit and defective segment (three duo LEDs), Power (one LED) |
| CAN bus interface | ISO 11898-2, Sub-D9 connector. CAN termination resistors are integrated (switchable). Integrated backbone bus. |
| FOC connection | 2 x F-SMA or ST terminal for the duplex line (multi-mode glass 50/125 µm, 62.5/125 µm duplex) |
| Baudrate | Up to 1 Mbit/s |
| Delay | ~300 ns (translates into ~60 m (~90ft.) bus length) between the wire connection of a FO Repeater through the fiber optic cable to the wire connection of a second FO Repeater (not including the signal delay time of the fiber optics, which is ~5 ns/m) |
| Power supply | 9-35 V DC, 1.5 W typ., through terminals |
| Galvanic isolation | 1 kV, 1 sec.; CAN 1 |
| Certification | CE, FCC |
| Temperature range |  -20 ºC … +70 ºC |
| Housing, size | Plastic enclosure, 22.5 x 100 x 115 mm (without FO connector) |
| | |
| --- | --- |
| 1.01.0068.45010 | CAN-CR210/FO – Glass fiber version with F-SMA connector |
| 1.01.0068.46010 | CAN-CR210/FO – Glass fiber version with ST connector |
| 1.04.0073.00000 | T bus connector |
Book your product
We are fully committed to providing our customers with the very best products and customer service. We believe in going the extra mile to ensure that each customer is satisfied with our products and solutions. We have the experience and the reputation in the field to deliver the products customers need to expedite their projects and assure quality every step of the way.
Copyright © 2022 Industrial Data Xchange. All rights reserved.