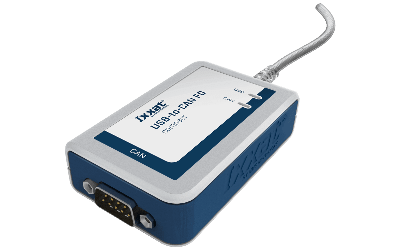 Easy connection to CAN and CAN FD networks
CAN interfaces allow PC or embedded applications to access CAN networks with a unique variety of different interface standards. You select the interface that suits your application, performance requirements, or required unit costs.
2 x CAN FD / CAN, 1 x LIN

The USB-to-CAN FD has – depending on the device variant – up to two channels, which support three switchable operation modes: ISO CAN FD, non-ISO CAN FD, and CAN High-Speed. The automotive variant provides also one LIN channel.
High performance
High data throughput combined with low latency using up-to-date technology. On-board data pre-processing, filtering, and accurate time-stamping.
Easy to implement
A powerful driver and programming packages for Windows, Linux, and real-time operating systems as well as higher layer API for CANopen.
Fits perfectly
Different form factors for desktop, industrial PC, mobile, and even wireless connection.
Uniform API
Easily switch between different PC interface types – no software adaptation required!
Active and passive
Available in low-cost passive or active variants with on-board controllers for data pre-processing.
Proven quality
Long-term availability plus high reliability due to the highest quality standards at development and production.  
CAN, CAN FD, and LIN in one device
Cost-effective and extremely versatile 
Common driver interface for easy exchange of the PC interface type
For industrial and automotive applications
Galvanic isolation
The USB-to-CAN FD is available in different variants – compact, automotive, and embedded. The compact variant has one switchable CAN / CAN FD channel with a D-SUB 9 plug. The automotive variant has two switchable CAN / CAN FD channels with RJ45 connectors. Adapter cables to D-SUB 9 plugs are included in the scope of delivery. The USB-to-CAN FD embedded is designed without housing, it comes with a slot bracket and a USB cable for installation into a computer.
LIN (Automotive variant)
LIN communications are supported in either LIN master or LIN slave mode. As LIN slave, the interface responds automatically to master requests it receives. The response data is updated through the PC API using a buffer. In master mode, the master calls are processed by the PC application. Incoming LIN messages are forwarded to the application with a timestamp, master request, response, and status information.
By using powerful hardware and connecting over USB 2.0 Hi-Speed (480 MBit/sec), the USB-to-CAN FD interfaces achieve very high data throughput with minimum latency and low power consumption. This allows them to provide the reliable, loss-free transmission and receipt of messages in CAN FD and CAN network at high transmission rates and busload. The messages are also time-stamped and can be filtered and buffered directly in the USB-to-CAN FD.
Due to its extremely interesting price and compact size, the USB-to-CAN FD interface is ideal for use in series products and in combination with the canAnalyser for development, service, and maintenance tasks.
Its newly developed, rugged housing permits easy customer-specific adaptation (custom design/brand labeling).
PC bus interface
USB 2.0, Hi-Speed (480 MBit/s)
Microcontroller
32 bit
CAN bitrates
10 kbit/s to 1 Mbit/s
CAN FD bitrates
Arbitration rate up to 1000 kBit/s, data rate up to 8000 kbit/s. The data rates are verified by tests. User-defined bit rates are possible.
Attention: The maximum data rate can be exceeded depending on the concrete operating conditions (cable length, settings made, remote stations,…), but it can also not be reached.
LIN bitrates
Max. 20 kbit/s
CAN controller
IFI CAN_FD IP
Galvanic isolation
800 V DC/500 V AC for 1 min
Power supply
Via USB, 5 V DC/300 mA
Temperature range
-20°C … 70°C
Weight
Approx. 100 g
Dimensions
80 x 50 x 2
USB-to-CAN FD interface in the compact, embedded, or automotive variant
2 x RJ45 to Sub-D9 adapter cable (only USB-to-CAN FD automotive)
Manual
CAN driver VCI for Windows
Simple "canAnalyser Mini" CAN bus monitor
ORDER CODES: 
Variants /
Features
CAN
HS
ports
CAN
FD
ports
LIN
Fieldbus
galv.
isolated
D-SUB
9
RJ45
Order number
compact
1
1
X
X
1.01.0351.12001
embedded
1
1
X
X
1.01.0352.12001
automotive
2
2
1*
X
X
1.01.0353.22012
* LIN master/slave mode via software switchable
Book your product
We are fully committed to providing our customers with the very best products and customer service. We believe in going the extra mile to ensure that each customer is satisfied with our products and solutions. We have the experience and the reputation in the field to deliver the products customers need to expedite their projects and assure quality every step of the way.