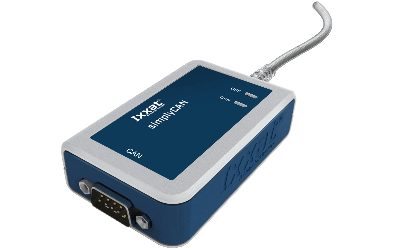 Easy connection to CAN and CAN FD networks
CAN interfaces allow PC or embedded applications to access CAN networks with a unique variety of different interface standards. You select the interface that suits your application, performance requirements, or required unit costs.
1 x CAN (High-Speed)
With its simplyCAN adapter, HMS offers an easy and economical way to diagnose, configure, and commission devices and systems on CAN. simplyCAN can be easily integrated into customer applications using a straightforward API and requires no driver installation for operation. 
High performance
High data throughput combined with low latency using up-to-date technology. On-board data pre-processing, filtering, and accurate time-stamping.
Easy to implement
A powerful driver and programming packages for Windows, Linux, and real-time operating systems as well as higher layer API for CANopen.
Fits perfectly
Different form factors for desktop, industrial PC, mobile, and even wireless connection.
Uniform API
Easily switch between different PC interface types – no software adaptation required!
Active and passive
Available in low-cost passive or active variants with on-board controllers for data pre-processing.
Proven quality
Long-term availability plus high reliability due to the highest quality standards at development and production.  
Inexpensive and easy to install – no driver installation required
Simple API interface for fast integration into customer applications
Optimised for diagnosis and commissioning of devices and systems with the CAN bus interface
Galvanic isolation prevents over-voltage damage
simplyCAN behaves like a standard serial USB device when connected to a USB port, the installation of a special driver under Windows 10 or Linux is therefore not required. For accessing the CAN functions of the simplyCAN adapter only a small number of functions is required, allowing easy and fast integration into customer applications.
simplyCAN comes with a simple monitoring tool for Windows and Linux, which can be used for commissioning of the adapter as well as for displaying messages in raw format and for sending individual messages.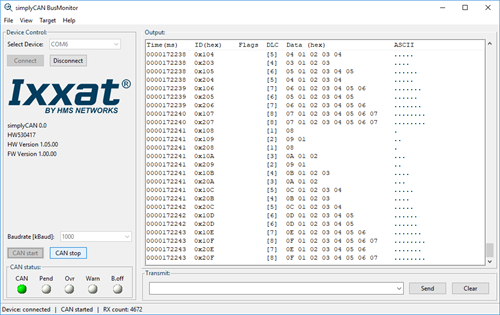 PC bus interface
USB 1.1 Full-Speed (12 Mbit/s)
Fieldbus connection
according to CiA 303-1
CAN standard
CAN high-speed, according to ISO11898-2 
CAN baudrates
10 kbit/s to 1 Mbit/s, only CiA recommended bit rates
are supported: 10, 20, 50, 125, 250, 500, 800, 1000
Galvanic isolation
800 V DC / 500 V AC for 1 min
Power supply
Via USB, 5 V DC/100 mA
Operating temperature
-20°C … 70°C
Protection class
IP40
Certification
CE
Dimensions
80 x 50 x 22 mm
Weight
Approx. 100 g
Supported operating systems
simplyCAN is tested on Windows 7

 

(32 bit and 64 bit) and

 

Windows 10

 

(64 bit), 
Ubuntu 14.04

 

on Linux kernel version 4.4 as well as

 

Ubuntu 18.04

 

on Linux kernel version 4.15 on Intel/AMD processors.
ARM based processors are not supported.
Ixxat simplyCAN USB adapter
The following is available via download from the webpage:
User manual
simplyCAN bus monitor for Windows and Linux
Programming examples
Programming API
Installation file setup.bat (necessary for Windows 7)
| | |
| --- | --- |
| simplyCAN | 1.01.0001.12001 |
Book your product
We are fully committed to providing our customers with the very best products and customer service. We believe in going the extra mile to ensure that each customer is satisfied with our products and solutions. We have the experience and the reputation in the field to deliver the products customers need to expedite their projects and assure quality every step of the way.
Copyright © 2022 Industrial Data Xchange. All rights reserved.