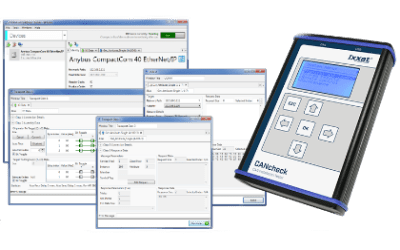 Installation tester for CAN networks
CANcheck allows users to analyse CAN networks during commissioning, maintenance and helps searching faults. This battery-operated, hand-held device connects to the CAN network to be tested and operates using a clearly-structured menu.
Commissioning test
CANcheck – Hand-held tool for easy CAN network test during commissioning, maintenance, and troubleshooting.
Easy device configuration
emotas tools enable easy configuration of CANopen and SAE J1939 devices with a few mouse clicks.
Fast time to market
emotas DeviceDesigner tools simplify the development of devices based on emotas protocol software packages and reduce your time to market.
Cable test with network switched off and operational test with network switched on
Wiring test: a test of the resistances between all pins of the CAN-connector (assignment in accordance with CiA), providing assessment based on pre-defined threshold values
Terminal resistance test: measurement of the resistance between CAN_H and CAN_L
Cable length: measurement of cable length via pulse-time delay, cable impedance
Measurement of the signal level: absolute and differential signal level listed according to an identifier
Baud rate detection: detection of the baud rate of the tested CAN system
Identifier scan: determination of all identifiers transmitted and display of reception frequency
CANopen mode: Signal level and reception frequency listed according to node-ID
Busload: measurement of the current busload of the CAN system
Error frames: number of error frames per time unit
User's guide: test instructions before the test, OK or error message after the test, continuation after acknowledgment
Multilingual: test instructions in German or English
The CANcheck is operated by means of a simple menu control via cursor keys and LCD display. Test results can be output via the LCD display or a connected PC. 
For display of the results on a PC, the CANcheck is connected to the PC via a USB port. Results are displayed on the PC via a terminal program. The logging function of the terminal program enables the test results to be either archived in a file or printed out.
| | |
| --- | --- |
| Display | 128 x 64 pixels; background light can be switched on or off |
| Keypad | Touch-sensitive keypad with 6 keys |
| Switch on/off | Switch on by pressing any key; switches off automatically after 10 mins. |
| USB port | USB 2.0 (full speed) |
| CAN interface | ISO 11898-2 High-Speed CAN |
| Power supply | 4 x 1.5 V Mignon Battery (AA) or USB |
| Operating time | approximately 24 hrs. with a battery capacity of 2850 mAh |
| Temperature range |  0 ºC … +50 ºC |
| Housing and dimensions | Sturdy aluminum housing 116 x 160 x 34 mm (W/H/D) |
| | |
| --- | --- |
| 1.01.0097.00000 | CANcheck – Installation tester for CAN networks |
Book your product
We are fully committed to providing our customers with the very best products and customer service. We believe in going the extra mile to ensure that each customer is satisfied with our products and solutions. We have the experience and the reputation in the field to deliver the products customers need to expedite their projects and assure quality every step of the way.