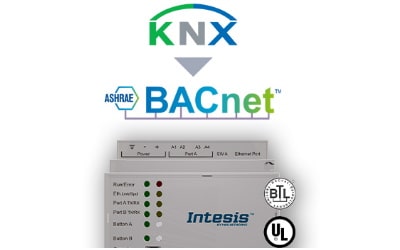 Developed for integrators, designed to be robust so they are reliable in the field and easy to set up
This bidirectional gateway provides a straightforward and fast integration thanks to its unique onboard features. The BTL mark ensures 100% compatibility and, at the same time, guarantees seamless integration with any BACnet device.
The configuration is carried out using the Intesis MAPS software. This one allows you to define your own settings for the device. Also, it will be able to download all the available project templates or to import any created/exported project template on your computer.
Integrate any KNX device or installation, with a BACnet BMS or any BACnet IP or BACnet MS/TP controller. The aim of this integration is to make accessible KNX communication objects and resources from a BACnet based control system or device as if it was a part of the own BACnet system and vice-versa.
BACnet Protocol Translators
Our BACnet solutions have been specially designed to allow supervision and bidirectional control of systems and equipment talking BACnet, DALI, KNX, LonWorks, M-Bus, and Modbus protocols.
On the BACnet server versions, the gateway provides server functionality to the BMS or BACnet controller over BACnet/IP through the Ethernet port and over BACnet MS/TP through the serial port.
On the BACnet client versions, the gateway provides client functionality to control BACnet IP server devices through Ethernet and BACnet MSTP devices through the serial port. In such cases, control and monitoring of BACnet devices from ASCII, KNX, and Modbus BMS controllers is possible.
Great integration flexibility thanks to KNX TP, LonWorks, RS485, Ethernet, DALI, or M-Bus interfaces.
Scaled licenses per number of datapoints help to find the right gateway version for your project.
Conforms to BACnet revision 14, B-AAC Profile.
Supports BI, BO, AI, AO, Device, BV, AV, MI, MO, MV, NC, Schedule, and Calendar BACnet objects.
Supports subscription requests (COV).
BTL certified.
BACnet IP and MSTP
The device can communicate through Ethernet or serial ports with BACnet IP or BACnet MSTP networks.
BBMD and foreign Devices
BACnet devices can work in complex BACnet/IP networks, providing the ability to communicate between subnets or/and through routers.
Advanced features
All Intesis BACnet Servers allow hosting notification class, calendar, schedule, and trend log objects as well as support for subscription requests (COV).
BTL certified
It provides an assurance that products have been independently tested and have passed industry-standard BACnet testing.
UL Certified
BTL Certified
Support for BACnet IP Client
BACnet Advanced features available (Trend logs, Calendars, etc.)
Support for KNX TP devices.
Control up to 3000 KNX communication objects.
Easy integration & updates with Intesis MAPS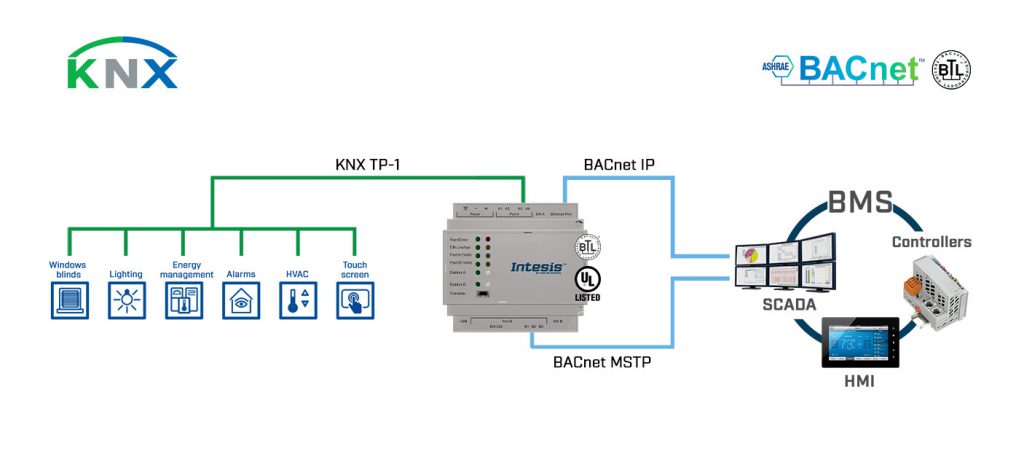 ORDER CODES: 
| | |
| --- | --- |
| INASCBAC6000000 |  BACnet IP & MS/TP Client to ASCII IP & Serial Server Gateway – 600 points |
| INASCBAC3K00000 |  BACnet IP & MS/TP Client to ASCII IP & Serial Server Gateway – 3000 points |
Intesis Gateway.
Installation Manual.
USB Configuration cable.
(Power supply not included).
Warranty: 36 months.
Book your product
We are fully committed to providing our customers with the very best products and customer service. We believe in going the extra mile to ensure that each customer is satisfied with our products and solutions. We have the experience and the reputation in the field to deliver the products customers need to expedite their projects and assure quality every step of the way.