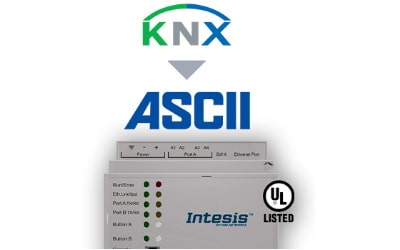 Specifically designed to allow bidirectional control and monitoring of all parameters and functionalities of your building automation projects
This bidirectional gateway provides a straightforward and fast integration thanks to its unique onboard features. Thanks to its support for custom ASCII strings, seamless integration with any ASCII BMS or controller is guaranteed.
The configuration is carried out using the Intesis MAPS software. This one allows you to define your own settings for the device. Also, it will be able to download all the available project templates or to import any created/exported project template on your computer.
Integrate any KNX device or installation, with an ASCII BMS or any ASCII IP or ASCII serial controller. The aim of this integration is to make accessible KNX communication objects and resources from an ASCII based control system or device as if it was a part of the own ASCII system and vice-versa.
ASCII Protocol Translators
Intesis ASCII gateways offer control and monitoring of BACnet or KNX devices from any ASCII Client (BMS, PLC, or SCADA). Intesis ASCII gateways could communicate through IP and serial (RS232 or RS485) interfaces and offer great flexibility to communicate with any ASCII system thanks to the use of custom string commands and custom string signals to match each system's specifications.
Intesis ASCII solutions act as an ASCII Server, so it waits for any query and responses according to the message received. Whenever an internal data point changes its value, the gateway could send an ASCII message informing about the new value too.
Easy integration through KNX TP, RS485, Ethernet, and serial ports with BACnet and KNX protocols.
Scaled licenses per number of datapoints help to find the right gateway version for your project
Both ASCII Serial & IP supported
All ASCII gateways can communicate through Serial (RS232 & RS485) and TCP ports at the same time.
Custom string signals
It offers great flexibility to adapt to different devices, BMS, or systems defining custom ASCII strings per each signal.
Custom string commands
It offers great flexibility to adapt to different devices, BMS, or systems selecting custom string commands on Intesis MAPS software.
Value changed notifications
Gateway will report all changes in signals with this parameter active. It helps to improve communications and refresh time of the system.
KNX Protocol Translators
Provide BACnet, DALI, M-Bus, or Modbus communication to your KNX installations. Intesis KNX solutions offer a perfect integration in any KNX project thanks to the availability of multiple standard DPT (Data Point Types) and our expertise in KNX solutions.
Intesis KNX connects directly to the KNX TP-1 bus and behaves like any other device in the KNX system, with the same configuration and operational characteristics as other KNX devices.
Great integration flexibility thanks to KNX TP, RS485, Ethernet, DALI, or M-Bus interfaces.
Scaled licenses per number of datapoints help to find the right gateway version for your project.
Standard KNX Datapoint Types
It ensures interoperability and data quality between different manufacturers' devices.
Extended group addresses
In big projects actívate extended group addresses and use up to 32 main group addresses in a 3-Level configuration.
Sending and listening addresses
Every point can be addressed not only using its main group address but also using the other defined listening addresses for the point.
Ri flag (Read on initialisation flag)
In order to get updated data as soon as possible, KNX gateways could requests updated data to the bus after initialisation, instead of waiting for changes.
UL Certified
Support for both ASCII IP and ASCII Serial (232/485)
Automatically send a write request to the ASCII bus when its value changes
Use personalized ASCII strings
Support for KNX TP devices
Control up to 3000 KNX communication objects
Easy integration & updates with Intesis MAPS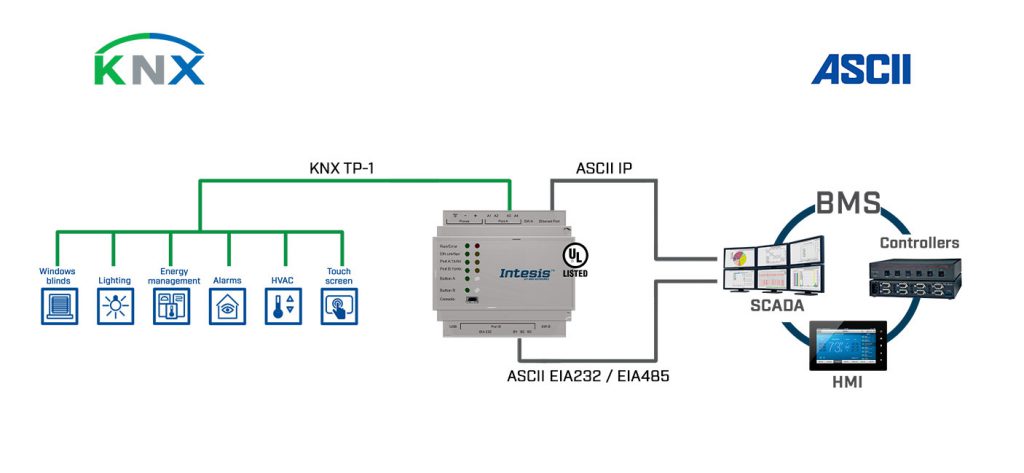 ORDER CODES: 
| | |
| --- | --- |
| INASCKNX6000000 |  KNX TP to ASCII IP & Serial Server Gateway – 600 points |
| INASCKNX3K00000 |  KNX TP to ASCII IP & Serial Server Gateway – 3000 points |
Intesis Gateway.
Installation Manual.
USB Configuration cable.
(Power supply not included).
Warranty: 36 months.
Book your product
We are fully committed to providing our customers with the very best products and customer service. We believe in going the extra mile to ensure that each customer is satisfied with our products and solutions. We have the experience and the reputation in the field to deliver the products customers need to expedite their projects and assure quality every step of the way.
Copyright © 2022 Industrial Data Xchange. All rights reserved.