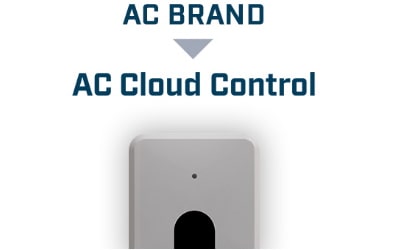 Integrate any Air Conditioning system and control it from anywhere
The AC Cloud Control Universal IR controller allows complete and natural integration of any IR controlled unit into the AC Cloud Control system for professional HVAC control and monitoring. The gateway allows the control of the main AC functions via infrared commands. But also, thanks to the IR receiver that the device is equipped with, it is possible to know the real status of the AC unit even the user is controlling it by the manufacturer IR remote controller. 
AC Cloud Control devices are developed to interface the AC units and provide cloud connectivity using the local WIFI network. They are b/g/n compatible and use 2.4GHz frequency, ensuring further coverage within the installation, and showing no communication problems due to the optimised IoT communication protocol used. They are firewall-friendly since only outbound ports are used, ensuring an easy and secure configuration.
Universal Controller
Compatibility for any infrared controlled system
Brand Specific AC
For RAC and domestic lines
Brand Specific RC
For PAC & VRF
Remote control
AC Cloud Control offers all the control needed, in a simple and intuitive way:
Full control of your HVAC system.
Control the AC Unit using simultaneously the manufacturer's remote controller and AC Cloud Control.
Smart
Once AC Cloud Control is connected to the AC unit, the very latest technologies are used to provide the most advanced functionalities.
Some functionalities will be executed in our servers.
Other functionalities will be executed in the device.
Easy WiFi configuration using the native Android and iOS app.

b/g/n WiFi standards supported at 2,4 GHz.

Quick and easy installation (plug and configure the WiFi).

External power not required.

Simultaneous control of the AC unit by the manufacturer's remote controller and by AC Cloud Control through the app and web.

Native Android and iOS app.

Web based dashboard.

ORDER CODES: 
| | |
| --- | --- |
| INWFIUNI001I000 | Universal IR Air Conditioner to AC Cloud Control (WiFi) Interface – 1 unit |
Universal IR WIFI Controller.

Installation Manual & Warranty Document.

Power Supply (EU, UK, US, AU heads).

Power Connection additional cable.

Warranty: 36 months.
Book your product
We are fully committed to providing our customers with the very best products and customer service. We believe in going the extra mile to ensure that each customer is satisfied with our products and solutions. We have the experience and the reputation in the field to deliver the products customers need to expedite their projects and assure quality every step of the way.
Copyright © 2022 Industrial Data Xchange. All rights reserved.