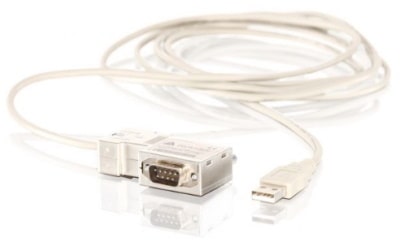 The compact all-rounder
ACCON-NetLink-USB compact is the compact communication and programming adapter between PC and S7 controls. The electronics of the ACCON-NetLink-USB compact are housed in the housing of a PROFIBUS connector, so the adapter is very small and handy.
As an all-rounder, the ACCON-NetLink-USB compact can be connected to the PLC via MPI, PROFIBUS, and PPI. The ACCON-NetLink-USB compact automatically detects the current bus settings of the PLC.
Optimal application possibilities
As a programming adapter for creating and changing the PLC program

As a communication adapter for data access to the PLC
Diverse areas of application
Programming of S7 controllers with STEP 7
Configuring HMI devices with WinCC flexible
Convincing and diverse
The communication of the ACCON-NetLink-USB compact to the PC takes place via USB.

It is supplied with voltage from the PC via its USB connection.

The ACCON-NetLink-USB compact supports the parameterisation of DP slaves via DP-V1 (class 2).
A driver for SIMATIC applications (ACCON-S7-NET) is included in the scope of delivery.
Automatic bus profile recognition

Full PROFIBUS speed with up to 12 Mbit / s

Supports MPI, PPI, and PROFIBUS

Supports DHCP

Plug with PG socket

Supports slave parameterisation via DP-V1 (class 2)

Supports all common SIMATIC engineering tools

Supports ISO on TCP (RFC 1006)
Supported Operating Systems

No restriction (the driver for SIMATIC ACCON-S7-NET only Windows XP, 2003R2, 7, 2008R2, 8.1, 2012R2, 10)

Hardware requirements

Ethernet interface and TCP / IP protocol

Supported PLCs

S7-200, S7-300, S7-400

Weight

approx. 0.1 kg

Dimensions (W x H x D) in mm

64 x 40 x 17

Protection class

IP 20

Supply voltage

24 VDC ± 25%

External power supply possible

Yes

Power consumption

75 mA

Galvanically isolated

Yes

operating temperature

0 ° C to 60 ° C

Permissible rel.

 

humidity

During operation 5% to 85% at 30 ° C (without condensation)




During storage 5% to 93% at 40 ° C (without condensation)

Ethernet connection

RJ45 socket

Ethernet interface

10 Base-T / 100 Base-TX

Supported transfer rates Ethernet

10/100 Mbit / s with automatic detection (10 Base-T and 100 Base-TX)

Max. Number of connections on TCP / IP

16

Supported bus systems

PROFIBUS, MPI, PPI

Supported bus profiles

MPI and PROFIBUS (DP, standard, universal (DP / FMS), user-defined) both permanently set and with automatic recognition of the bus parameters, PPI

Supported transfer rates of the bus connection to the PLC

9.6 Kbit / s to 12 Mbit / s with automatic detection

Max. Number of connections on MPI, PROFIBUS, PPI

32

Supported software

ACCON-AGLink, ACCON-EasyLog, DELTA LOGIC S7 / S5-OPC-Server, ACCON-S7-Backup.


With the driver for SIMATIC ACCON-S7-NET also SIMATIC Manager from V5.3, WinCC 6.0, WinCC flexible, ProTool, STEP 7-Micro / WIN, TIA Portal
Book your product
We are fully committed to providing our customers with the very best products and customer service. We believe in going the extra mile to ensure that each customer is satisfied with our products and solutions. We have the experience and the reputation in the field to deliver the products customers need to expedite their projects and assure quality every step of the way.
Copyright © 2021 Industrial Data Xchange. All rights reserved.