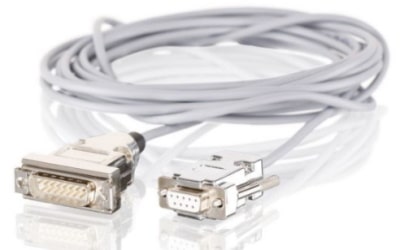 The inexpensive S5 adapter
The ACCON -COM cable is an inexpensive adapter for connecting a PC to an S5 controller. Power is supplied via the PLC interface, so an external supply is not required.
Optimal application possibilities
As a programming adapter for creating and changing the

 

PLC program

As a communication adapter for visualisations

As a communication adapter for data access to the PLC
Diverse areas of application
Programming an S5 controller, e.g. B. with ACCON-PG or the STEP 5 software from Siemens

Connect visualisations with S5 controls
Connection to COM interface

No separate power supply necessary

Can also be used with STEP 5
| | |
| --- | --- |
| Connection to the PC | RS-232 with 9-pin SUB-D socket, fixed cable |
| Connection to the PLC | TTY with 15-pin SUB-D connector |
| Supported PLCs | S5 of the U series |
| Protection class | IP 20 |
| Supply voltage | 5 VDC from the PLC interface |
| Galvanically isolated | No |
| Extension possible | Not recommended |
Book your product
We are fully committed to providing our customers with the very best products and customer service. We believe in going the extra mile to ensure that each customer is satisfied with our products and solutions. We have the experience and the reputation in the field to deliver the products customers need to expedite their projects and assure quality every step of the way.
Copyright © 2022 Industrial Data Xchange. All rights reserved.