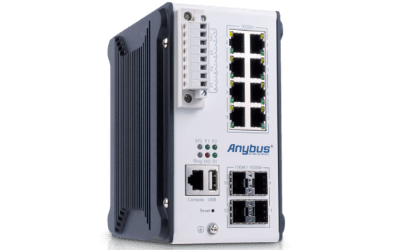 Anybus Wireless Managed L3 Switch for Industrial Applications
The intelligent Anybus Switches provide full Gigabit and ultra-high throughput. Multiple redundancies and cyber security features enable you to build a highly reliable and secure network.
Full Gigabit Switching and ultra-high throughput
12-port Full Gigabit Ethernet with 8-port RJ 45 and 4-port SFP
16k MAC address table
1.5 MB packet buffer memory for H.264 burst
9 kB jumbo frame
Store-and-forward with non-blocking switch fabric
Dynamic routing with redundancy protection
RIPv1&v2, OSPFv1&v2 for intra-domain routing within an autonomous system
Efficient unicast/multicast static routing
VRRP for reliability and availability
ITU-T G.8032 V1/V2 ERPS ring redundancy
ITU standard Ring redundancy protocol
Provides sub-50ms protection and recovery switching for Ethernet traffic
Interoperability with most 3rd party industrial switches, providing fast recovery time
Efficient network interconnection and topology with ERPS Chain, multiple chains
Cybersecurity
L2-L7 IPv4/IPv6 Access Control List (ACL)
DHCP Snooping, IP Source Guard, Dynamic ARP Inspection
802.1Q VLAN, Private VLAN, Advanced Port Security
Multi-Level user authentication
HTTPS/SSH/SFTP, 256-bit encryption
IEEE 802.1X port-based authentication
MAB for non-802.1X compliant end devices
RADIUS/TACACS+ centralized user authentication
Rugged design
EN50121-4 for railway trackside applications
Top-level EMC protection and excellent heat dissipation design for operating in -40 to 75oC environment
IEC 61000-6-2/4 Heavy Industrial Environment
Management features
Various configuration paths, including WebGUI, CLI, SNMP, and RMON
IEEE 1588v1/v2 PTP time management
LLDP topology control
USB for backup/restore and firmware update
Software utility interface for LAN device management
NMS for individual component monitoring
Ethernet

     8 x 10/100/1000Base-T RJ-45

     4 x 100/1000Base SFP, DDM

Console

     1 x RS232 (RJ45) 115200.n.8.1

USB

     1 x USB type A

Operating Temp.

     -40°C-75°C , 0%-95% Non- Condensing

Data speeds

     1000Base-TX/FX

     100Base-TX/FX

     10Base-TX/FX

Power

     24 VDC (10-60 VDC)

     Max. 16.08W

     Support for dual power supplies

Weight

     1 380 g

Housing material

     Steel/aluminium

IP protection class

     IP31

Dimensions

     150 x 126.5 x 85.5 mm (without DIN rail clip)

Mounting

     DIN rail mount (bracket included)

Configuration

     CGI WebGUI, CLI, SNMP

 Security

     IEEE 802.1x/RADIUS, Private VLAN, ACL (MAC/IP filter) 

 Redundancy

     Rapid spanning tree protocol (RSTP)/Multiple spanning tree protocol
     (MSTP)
     ITU-T G.8032 v1/v2 Ethernet ring protection switching (ERPS)
     Virtual router redundancy protocol (VRRP)

 L3 Routing

     Static/dynamic IP routing, VLAN routing, RIP v1/v2, OSPF v1/v2, IGMP, and Multicast routing

 Traffic Management

     Flow control, Port trunk/802.3ad LACP, VLAN, Private VLAN, GVRP, GMRP, QinQ, QoS, IGMP snooping v1/v2/v3, Rate control, Storm control, Port mirroring

 Network Management

     IPv4/IPv6, SNMP v1/v2c/v3, RMON, LLDP, DHCP server/client/Option 82, SysLog
Europe                                          
North America
CE                 
FCC
ORDER CODE: AWB5011
INCLUDED COMPONENTS:
1 x DIN-rail mounting bracket.
WARRANTY:  3 years
Book your product
We are fully committed to providing our customers with the very best products and customer service. We believe in going the extra mile to ensure that each customer is satisfied with our products and solutions. We have the experience and the reputation in the field to deliver the products customers need to expedite their projects and assure quality every step of the way.