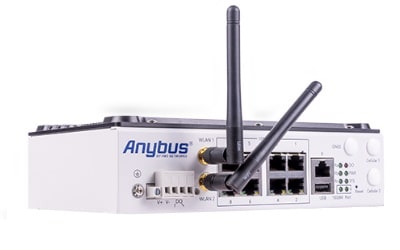 Anybus Wireless Router WLAN
The Anybus Wireless Routers are ideal to provide your industry with high-speed WLAN connectivity. Advanced routing functionality allows you to segment your network and protect mission-critical data.
An extensive range of redundancy technologies ensures uninterrupted operations.
High throughput wireless performance
Dual-radio, 2.4 GHz or 5 GHz WLAN for local coverage, up to 866 Mbit/s
IEEE 802.11ac compliant & backward compatible with 802.11a/b/g/n
Ethernet routing switch
8 Fast Ethernet LAN ports
1 Gigabit Ethernet WAN port
IEEE 802.1p QoS/802.1Q VLAN priority tagging
RIPv2
Traffic control
Enhanced security and redundancy for critical applications
Firewall for traffic classification, port forwarding
VRRP (Virtual Routing Redundancy Protocol).
GRE (Generic Routing Encapsulation RFC2784)
Supports NAT, DMZ for LAN protection
Supports IPsec, OpenVPN, and L2TP for secure connection
Rugged design 
Effective heat dissipation design for operating in -40 to 75°C environments
Railway EMC: EN50121-4 compliance
IEC61000-6-2/IEC61000-6-4 heavy industrial EMC
Vehicle: E-mark compliance
Radio RED for CE Marking
Emission: FCC part 15 B Class A
Management features
Various configuration paths, including WebGUI, CLI, and SNMP
Diagnostic tools, including LED, Ping/Traceroute, SNMP Trap, E-mail Alert and Syslog
External backup/restore, Firmware update
Ethernet ports

       LAN: 8 x 100 Mbit/s RJ45, auto negotiation, auto MDI/MDI-X 

       WAN: 1 x 1 Gbit/s RJ45, auto negotiation, auto MDI/MDI-X

USB
       1 x USB type A
Operating temp.
      -40oC-75oC, 5-95 % non-condensing
Data speeds

      802.11ac: MCS 0-9, max. 866 Mbit/s  

      802.11b: 11 Mbit/s           

      802.11a/g: 54 Mbit/s  

      802.11n: MCS 0-15, max. 300 Mbit/s

Power

      8-32 VDC (max. 4.8 W)  

      4-pin removable terminal block connector  

      2-pin for power input  

      2-pin for dry relay output (max 0.5 A/24 VDC)

Weight
      1 400 g
Housing material
      Steel/aluminum
Ingress protection
      IP31
Dimensions
      200 x 126 x 51 mm (without DIN rail clip)
Mounting
      Panel mount or DIN rail mount (bracket included)
Configuration 
      CGI WebGUI, SSH, Telnet, SNMP 
Europe                                           CE
North America                             FCC, UL
Australia
China*
India*
Japan*
Turkey
* Pending approval
ORDER CODE: AWB5121
INCLUDED COMPONENTS:
1 x DIN-rail mounting bracket.
(No antennas included)
WARRANTY:  3 years
Book your product
We are fully committed to providing our customers with the very best products and customer service. We believe in going the extra mile to ensure that each customer is satisfied with our products and solutions. We have the experience and the reputation in the field to deliver the products customers need to expedite their projects and assure quality every step of the way.
Copyright © 2022 Industrial Data Xchange. All rights reserved.