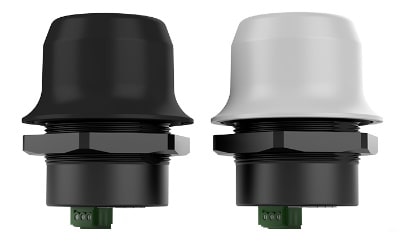 Give easy and robust industrial wireless access to your industrial cabinets or machines
The Anybus Wireless Bolt IoT gives devices, machines, and equipment an Internet connection. This solution uses the latest LTE standards NB-IoT and CAT-M1 and fits both stationary and mobile equipment.
These new LTE standards are so-called LP-WAN technologies (Low Power Wide Area Network) adapted for the new IoT use cases. This means low power consumption, low bandwidth (25-300 kbit/s), good geographical coverage, and lower cost.
Improve operator safety
A machine operator or technician does not need to be physically located at the machine to gain access. Ideal if space is limited or you are unable to open the cabinet doors or improving operator safety in fenced-off areas within a factory.
The innovative hardware form-factor with its M50 through-hole mount enables effective access to good cellular connectivity, without losing coverage due to long and lossy antenna cable. The Bolt IoT is up-to-date with the latest 4G LTE standards NB-IoT and CAT-M1 and, to be globally effective, it uses 2G (GPRS/EDGE) fallback enabling deployment almost anywhere in the world.
Configure machines wireless
Anybus Wireless Bolt gives you direct access to configure or troubleshoot your machinery. With a range of 100 meters you can access the internal web pages via a laptop, tablet, or smartphone. BYOD (Bring Your Own Device) means that you no longer need an expensive HMI.
Intuitive and interesting form-factor; M50 through-hole mount on any flat surface
World-wide coverage on a single module with industry and mobile network certifications
LPWA Global 13 band LTE NB-IoT, LTE CAT-M1 and GPRS/EDGE failback
Ultra-Low Power Mode; Reduce power consumption for battery or solar/wind powered applications
Host interface RJ45 with 10/100 Mbit/s Ethernet
PoE (Power over Ethernet) option, single cable with both power and communication
Transparent transfer of any TCP/UDP based protocol
Built-in firewall, NAT and DHCP server
Nano SIM-card slot.
Cellular standards

4G LTE: Category Cat-M1 and NB-IoT. Frequency Bands B1, B2, B3, B4, B5, B8, B12, B13, B17, B18, B19, B20, B26, B28
2G: EDGE, GPRS bands 850, 900, 1800, 1900

Host interface
RJ45 Ethernet 10/100 Mbit/s
Operating temperature.
Shadow black and white: -40 to +65 °C, Direct sunlight: Black -40 to +45 °C, White -40 to +65 °C (Storage temperature: -40 to +85 °C)
Data speeds

Peak Download Rate Cat-M1: 300kbps, NB-IoT: 27kbps, 2G/EDGE: 200kbps
Peak Upload Rate Cat-M1: 375kbps, NB-IoT: 65kbps, 2G/EDGE: 200kbps

Latency

CAT-M1: 10ms – 15ms
NB-IoT: 1.6s – 10s
2G/GPRS/EDGE: 700ms – 2s

Power

11-33 VDC, PoE (Power over Ethernet) PD according to IEEE 802.3af. Redundant or separate operation of PoE and screw terminals for increased robustness.
Power Consumption: Sleep Mode: DC terminal 0,1W. PoE 0,3W
Idle Mode: DC terminal 0,6W. PoE 0,8W
Worst Case (GPRS/2G): DC terminal 3,2W. PoE 3,6W. Peak current: 1.2A@11VDC

Weight

95g

Connectors
RJ45 Ethernet/PoE, 3-pin screw connector for power
Housing material
Top: Valox 357X(f1) PBT/PC. Suitable for outdoor use with respect to exposure to ultraviolet light, water exposure and immersion in accordance with UL 746C. Base: Celanex: XFR 6840 GF15. PBT glass reinforced plastic.
IP protection class
IP66, IP67 and UL NEMA 4X for top (outside the host), IP21 for base (inside the host)
Dimensions
Diameter: 68 mm. Overall height: 75 mm without DC-connector, 84 mm incl. PS-connector. Height aove mounting surface: 41 mm.
Mounting
M50 screw and nut (50.5 mm hole needed)
Configuration
Two different methods: 1. Accessing the built-in web pages via Ethernet. 2. Sending REST-commands via Ethernet.
Vibration compatibility
Sinosodial vibration test according to IEC 60068-2-6:2007 and with extra severities; Number of axes: 3 mutually perpendicular (X:Y:Z), Duration: 10 sweep cycles in each axes, Velocity: 1 oct/min, Mode: in operation, Frequency: 5-500 Hz, Displacement ±3.5 mm, Acceleration: 2g. Shock test according to IEC 60068-2-27:2008 and with extra severities; Wave shape: half sine, Number of shocks: ±3 in each axes, Mode: In operation, Axes ± X,Y,Z, Acceleration: 30 m/s2 , Duration: 11 ms.
Humidity compatibility
EN 600068-2-78: Damp heat, +40°C, 90% (non condensing).
Certifications
CE/RED, FCC/IC, GCF and PTCRB, UL 62368/UL 60950
UL file E214107
Order Codes
AWB1000 (Anybus Wireless Bolt IoT black)
AWB1001 (Anybus Wireless Sunbolt IoT white top and black base)
Internet access for any machine or device with an Ethernet port
Low Power/Sleep mode for connecting battery/wind/solar powered equipment

Order Code: AWB1000 (Black top), AWB1001 (White top)
Included Components:
3-pin power screw connector
Quick start Guide
Safety & Compliance sheet
Global roaming SIM-card (optional activation with separate charge)
Optional Accessories:
024707 – Power Supply 90-264 VAC to 24VDC 19W world socket kit, 1,4 meter cable, and 3-pole Bolt power connector
AWB4005 – Anybus PoE injector 100-240VAC. 35W incl. world power cable
AWB4006 – Anybus PoE injector 12-57VDC. 30W, dual PoE ports
Warranty:  3 years  
Book your product
We are fully committed to providing our customers with the very best products and customer service. We believe in going the extra mile to ensure that each customer is satisfied with our products and solutions. We have the experience and the reputation in the field to deliver the products customers need to expedite their projects and assure quality every step of the way.
Copyright © 2022 Industrial Data Xchange. All rights reserved.