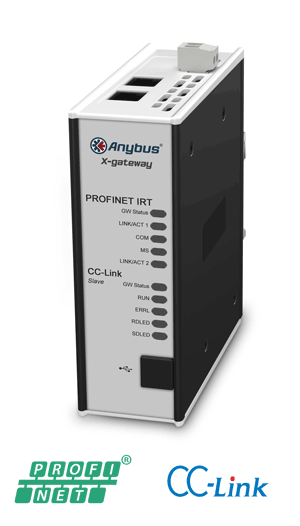 The Anybus X-gateway allows you to seamlessly inter-connect PLC control systems and their connected devices between CC-Link and PROFINET-IRT networks
The X-gateways primary function is with the fast transfer of cyclic I/O data between the two networks. This offloads your PLC from working with additional calculations. The gateway acts as a Slave/Device on both networks. The data transmission is completely transparent with a maximum data capacity of 512 bytes in each direction.
Easy Configuration – No programming required!
The connection between the two networks is quickly set up in the Anybus Configuration Manager software, included with the X-gateway. No programming skills are needed to set up the X-gateway. As factory default, the X-gateways have a pre-defined I/O size of 20 bytes I/O.
Fast copying of cyclic I/O data between PROFINET-IRT and CC-Link networks (10-15 ms)
Proven and tested with all PLC manufacturers
Supports up to a maximum of 512 bytes of Input and Output data in each direction
Possibility to build web pages displaying and controlling a factory floor process with data from the other connected network
Fast, dynamic transfer of fieldbus data to e.g. SCADA/HMI/Enterprise level systems based on Microsoft Windows, via the included Anybus OPC server
Optional control status information added to I/O data for diagnostic purposes
Robust stand-alone housing for use in harsh industrial environments
Global free technical support and consultancy
CC-Link Slave interface
CC-Link Slave settings can be made either via on-board switches, or by importing the provided .CSP file into engineering tool of the controlling PLC.
Complete CC-Link slave Version 1 and 2 functionality
CC-Link Conformance BAP-05027-B specification
Transparent CC-Link communication (Standard Mode)
PLC Profile compliant communication (PLC profile mode)
Max. 896 bits/128 words (368 bytes) of I/O data in each direction
Supports CC-Link baudrates 156 kbit/s – 10 Mbit/s
Up to 4 occupied stations
Up to 8 extension cycles (version 2 only)
CC-Link configuration via on-board switches or via .CSP file
1x 5-pin, 5.08 Phoenix plug network connector
PROFINET IRT Device/Slave settings can be made either via the built-in web interface, or by importing the provided .GSDML file into engineering tool of the controlling PLC.
Complete PROFINET RT and IRT functionality specification 2.3
Conformance tested supporting Class A, B and C
Max 512 bytes of Input and 512 bytes of Output data
Baud rate 10/100 Mbit/s Isochronous cycle times 0.25 to 4 ms (25 Us increments)
SNMP-MIBII support
TCP/IP Configuration via DCP (Discovery and Configuration Protocol)
LLDP (Linked Layer Discovery Protocol)
Support for I&M (Identification & Maintenance)
PROFINET uplink configuration via .GSDML file
Dual port cut-through switch
Dual RJ-45 ports available simultaneously
PROFINET Asset Management
| | |
| --- | --- |
| Dimensions (L•W•H)   | 114 x 44 x 127mm or 4,49 x 1,73 x 5,00″ |
| Weight | 400g or 0,880 lbs |
| Operating temperature | -25 to +65 °C  or  -13 to +149 °F  |
| Storage temperature | -40 to +85 °C  or  -40 to +185 °F  |
| Power supply | 24 VDC +/- 20% via 2-pole 5.08 mm Phoenix pluggable screw connector   |
| Current consumption     | max. 400mA (Typical 200mA) |
| Enclosure material  | Aluminium and plastic |
| Installation position | Vertical / Flat* |
| Galvanic isolation | YES, on both BUS/Ethernet side |
| Mechanical rating | IP20, NEMA rating 1 |
| Mounting | DIN-rail (EN 50022 standard) |
| I/O configuration | via USB port with Anybus Configuration Manager software |
| Certifications | CE, CULUS, RoHS |
Order Code 
AB7512
Included components

 

           

Gateway
Quick start documentation
USB configuration cable

Power supply not included

Configuration and Anybus OPC server software is available for download
Book your product
We are fully committed to providing our customers with the very best products and customer service. We believe in going the extra mile to ensure that each customer is satisfied with our products and solutions. We have the experience and the reputation in the field to deliver the products customers need to expedite their projects and assure quality every step of the way.