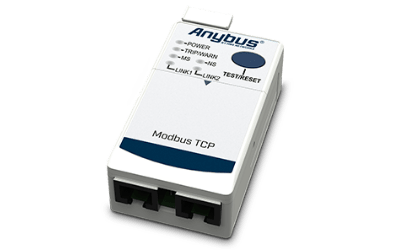 Modbus TCP Communication Module for the Allen-Bradley E300 Electronic Overload Relay
The Anybus-E300-MBTCP Communication Module is designed to work with the Allen-Bradley E300 Electronic Overload Relay from Rockwell Automation. When an E300 needs to be integrated with a Distributed Control System (DCS) that uses Modbus TCP as its communication backbone, this module enables the E300 to function as a Server node on the Modbus TCP network.
The Modbus TCP Communication Module allows the DCS to send control commands to the E300 and monitor the device via Ethernet.  Modbus TCP is commonly used in many industries, such as water and wastewater facilities, heavy industries such as Oil and Gas, Chemicals and Mining, as well as others.
Connects directly to the E300 replay
The E300 Relay is comprised of three modules:  A Sensing Module, a Control Module, and a Communication Module.  The Anybus-E300-MBTCP is a Communication Module and is an integral part of this three-module configuration.  It plugs in directly into the top of the Control Module and is secured into position with a locking tab.
MODBUS TCP server functionality
With the Anybus-E300-MBTCP, the E300 Relay is a Modbus TCP Server node on the network.  Any Modbus TCP Client device or application can exchange data with the E300.  Inputs such as current, voltage, power, and trip status can be read from specific Modbus registers.  Also, configuration parameters and setpoints can be sent from the primary client.  Up to four simultaneous connections are supported.
Web-based configuration interface
Configure the E300 Relay internal settings and network parameters via an easy-to-use onboard web server.  Live data can be viewed in parameter monitor pages, and a diagnostic menu allows you to check device and network status.
2-PORT Ethernet switch
The integrated 2-port Ethernet switch enables connecting multiple E300 Relays in a daisy-chain fashion, eliminating the need for a stand-alone Ethernet switch.
Connects directly to the E300 Relay
Modbus TCP server functionality
Web-based configuration interface
2-port Ethernet switch
Ethernet connector

RJ45 x 2

Power consumption

Typical: 220 mA @ 5 VDC

Storage temperature

-40 to +85 °C

Operating temperature (open)

-20 to +55 °C

Operating temperature (enclosed)

-20 to +40 °C

Humidity

EN 600068-2-78: Damp heat, +40°C, 92% humidity for 56 days

EN 60068-2-30: Damp heat, +25°C – +40°C, 93% RH, 21 cycles

Cooling Method

Natural convection

Vibration

IEC 68-2-6: 5 G operating, 5 G non-operating

Shock

IEC 68-2-27: 30 G

Protection class

IP20

Product weight

85 g

Dimensions

32 x 44,8 x 89,3 mm (H x W x D)

Modbus TCP connections

Up to 4 simultaneous connections

Modbus TCP port number

502
ORDER CODE: 028810
WARRANTY:  3 years
Book your product
We are fully committed to providing our customers with the very best products and customer service. We believe in going the extra mile to ensure that each customer is satisfied with our products and solutions. We have the experience and the reputation in the field to deliver the products customers need to expedite their projects and assure quality every step of the way.