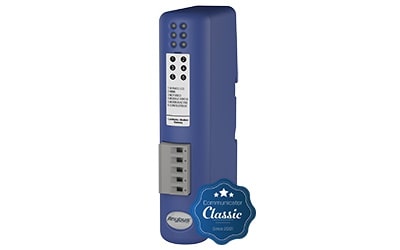 Connect non-networked industrial devices and equipment on a Modbus RTU network to Lonworks
Integrate your Modbus serial RS-232/422/485 based industrial devices and equipment to a LONWORKS control system without the need for any changes to the device. Just connect, configure and you're done!
The Anybus Communicator is a proven and trusted protocol converter gateway that connects non-networked industrial devices and equipment on a Modbus RTU network to Lonworks.
The Communicator is a slim stand-alone gateway designed for IP20 and DIN-rail mounting, requiring a 24-volt power supply. The Communicator is conformance tested to current Lonworks specifications guaranteeing network compatibility.
Convert classic Modbus registers for I/O data
The gateway makes it possible to convert Modbus registers data to LonWorks Variables (SNVT"s and/or UNVT"s). You can create a set of variables according to LonMark functional Profiles or you can create your own set of variables with User-defined Network Variables (UNVT"s).
The Communicator is a slave on the Modbus RTU side. This means that you connect this to a Modbus network which has a Modbus RTU Master connected. The configuration requires no programming and is made by an included configuration tool in the Windows environment.
Convert almost any RS-232/422/485 Request/Response or Produce/Consume protocol in just a few minutes — For example Modbus RTU, ASCII, DF1.
Pre-defined for Modbus RTU. Avoid the hassle of scripting and serial Modbus frame building with the 6-step Modbus RTU wizard.
No hardware or software changes are required for the connected automation device
Compatible with PLCs from leading manufacturers such as Siemens, Rockwell, Schneider Electric, etc
Complete protocol conversion performed by the Communicator, no PLC function blocks required
Handy Save/Load function means a completed configuration can be re-used for many other installations
Included "Anybus Configuration Manager" with flexible serial frame building capabilities
Versions with Dual Port switched Ethernet allows for daisy-chaining and eliminates the need for external switches
Global free technical support and consultancy
No high-level programming skills are needed to set up the Anybus® Communicator as the configuration is accomplished using the included, easy to use Windows™ based ACM (Anybus Configuration Manager).
Selectable RS-232/422/485 interface
Pre-defined 6-step Modbus-RTU configuration wizard
Selectable pre-loaded DF1 commands. No scripting or serial frame building required!
Ability to configure ASCII or vendor-specific protocols (Request/Response or Produce/Consume via a visual frame building interface 
Multi-language support for English, German, Spanish, Italian, French, Polish, Russian, Chinese, and Japanese
Handy Save/Load function allows for a completed configuration to be re-used for many other installations
Password protection prevents unauthorised upload and download of configurations
Serial Line Listener and In-built Checksum calculations for diagnostic and troubleshooting
Certified for Lonmark application layer guidelines V3.2
Lonworks network variables and configuration of the gateway is made via the included configuration tool (network commissioning requires 3rd

 

part tools)
Lonworks FT-X1 Transceiver
Up to 256 input + 256 output LonWorks Network Variables / Modbus Word Registers
Amount and type of network variables configurable, data linking between Lonworks variables (SNVT's) and Modbus Registers
Lonworks baudrate 78 kbit/s
1x D-sub 9-pin male RS-232 configuration port 
1x 5-pin, 5.08 Phoenix network connector
Communicator RS-232/422/485
| | |
| --- | --- |
| Protocol | Configurable RS-232/422/485 based produce/consume, query/response ASCII |
| Max stations | 31 (with RS485/422) |
| Baud rate | 1,2-57,6 kbit/s |
| Physical standards | RS232/422/485 |
| Modbus Commands | 0x01 Read Coils, 0x02 Read Discrete Inputs, 0x03 Read Holding Registers, 0x04 Read Input Registers, 0x05 Write Single Coil, 0x06 Write Single Register, 0x07 Read Exception Status, 0x08 Diagnostics, 0x0B Get Comm Event Ctr, 0x0C Get Comm Event Log, 0x0F Write Multiple Coils, 0x10 Write Multiple Registers, 0x11 Report Slave ID, 0x14 Read File Record, 0x15 Write File Record, 0x16 Mask Write Register, 0x17 Read/Write Multiple Registers, 0x18 Read FIFO Queue Customized commands can be created (in the Anybus Configuration Manager) |
|  DF1 Services | 0x01 Integrity Check, 0x02 Read Diagnostics, 0x03 Read Data, 0x04 Write Data Customized services can be created (in the Anybus Configuration Manager) Technical Details Standard |
Technical details
Dimensions (L x W x H) with the serial and power connector
120 x 75 x 27 mm
4,72 x 2,95  x 1,06"
Weight
150 grams, 0.33 lb
Protection class
IP20 Nema rating 1
Enclosure material
l PC ABS, UL 94
Installation position
Any
Mounting
DIN rail (35 * 7,5/15)
EN50022
Certifications
UL
File Number: E203225
UL 508 Ind. Cont. Eq.
Hazardous Locations
CLASS 1, DIVISION 2, GROUPS A, B, C, AND D, T4
ISA 12.12.01
CE
2004/108/EC
EN 61000-6-4
EN 61000-6-2
Electrical characteristics
| | |
| --- | --- |
| Power | 24 VDC +/- 10 % |
| Current consumption | Max 300 mA, Typical 100 mA |
Environmental characteristics
| | | |
| --- | --- | --- |
| Reverse voltage protection | Yes | |
| Short circuit protection | Yes | |
| Galvanic isolation on the subnetwork | Yes | EN 60950-1 |
| MTTF | >550 000 h | Telcordia Issue 2, Method 1 Case 3 at 30 o C |
Hardware characteristics
Operating temp
0 to 55 o C, 32 to 131 o F
Storage temp
-40 to 85 o C, -40 to 185 o F
Relative Humidity
0-95% non condensing
Installation altitude
up to 2 000 m
Immunity and emission for the industrial environment
Electrostatic discharge
+/- 4 kV
EN 61000-4-2
Electromagnetic RF fields
10 V/m 80 MHz – 1 GHz
3 V/m 1,4 GHz – 2,0 GHz
1 V/m 2,0 GHz – 2,7 GHz
EN 61000-4-3
Fast Transients 
+/- 1 kV
EN 61000-4-4
Surge protection
+/- 1 kV
EN 61000-4-5
RF conducted interference
10 V/rms
EN 61000-4-6
Emission (at 10 m)
40 dB 30 MHz – 230 MHz
47 dB 30 MHz – 1 GHz
CISPR 16-2-3
Order Code: AB7009
Included Components:
Quickstart documentation

Configuration program LWTool

D-sub connector with screw terminals for serial sub-network

Configuration software available for download

(Power supply not included)
Optional Accessories:
USB-RS-232 configuration adapter (Order Code: 019570)
Guarantee:  3 years
Book your product
We are fully committed to providing our customers with the very best products and customer service. We believe in going the extra mile to ensure that each customer is satisfied with our products and solutions. We have the experience and the reputation in the field to deliver the products customers need to expedite their projects and assure quality every step of the way.