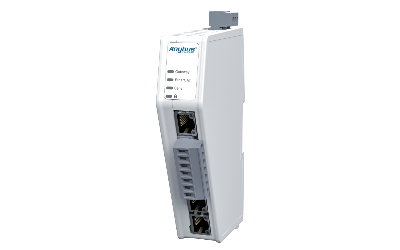 This unit replaces the Anybus AB7061 Communicator
Integrate your serial RS-232/485-based industrial devices and equipment to EtherCAT control systems without any changes to the device. Just connect, configure and you're done.
The Anybus Communicator can transfer large amounts of data, is fast to configure thanks to its' drag-and-drop web interface and is built on trusted Anybus technology.
CONVERT ALMOST ANY TYPE OF SERIAL PROTOCOL
The Communicator can convert standard serial protocols such as Modbus RTU and proprietary serial request/response or produce/consume based protocols.
TYPICAL SERIAL APPLICATIONS
Typical serial applications include variable frequency drives, sensors, actuators, human-machine interfaces, barcode readers, RFID readers and industrial scales.
Transfer up to 1 486 bytes of data in both directions

Convert standard and proprietary RS-232/485 protocols
Web-based drag and drop configuration interface
-25 to +70 °C industrial temperature range
Powered by the award-winning NP40 network processor
Transfer up to 1 486 bytes of data
Demand for more data is constantly growing and the Communicator has been equipped to handle the challenge. It can transfer 1 486 bytes from the PLC to the Gateway and 1 486 bytes from the gateway to the PLC, 2 972 bytes in total. Support for up to 150 Modbus commands means even complex configurations with multiple nodes can be handled with ease.
Drag and drop web interface
To make sure you spend as little time as possible configuring the Communicator, we have built a graphical and responsive web-based user interface. No software needed to be installed, just open your favourite web browser and start.
Industrial temperature range
An industrial operating temperature range of -25 to +70 °C ensures the Communicator can excel under harsh conditions.
Powered by proven NP40 technology
The Communicator is built on the award-winning and proven Anybus NP40 network processor. With hundreds of thousands of NP40:s used in Embedded applications across the world, it is the industry benchmark for reliable industrial communication.
Security switch
Even with sophisticated security measures, human error is still the main cause of security breaches. To simplify security, we added a physical security switch on the Communicator. It locks your configuration and prevents any access to the web-based configuration interface. Just flip it when your configuration is done and watch the padlock LED on the product light up.
Ethernet configuration port
With a dedicated Ethernet configuration port you don't need any special configuration cable. In addition, it is easy to connect to the gateway to monitor network traffic.
Optimised for DIN-rail mounting
The slim form factor, front-facing network connectors, screw-in serial cable connector and neat cable tie ensure it is fast and straightforward to install and connect the Communicator.
Diagnostics
When opening the Communicator web interface, you immediately see the PROFINET and serial connection status. You can even see the status of individual serial nodes. It's also equipped with a serial log and an event log for further analysis.
Support
Sometimes you run into a problem where you need help. That's why we have included a support page in the user interface with contact information. There is even a button to generate a support package to simplify troubleshooting.
Selectable RS-232/485 interface
3 ms serial update rate (selectable)
Visual I/O data map to map serial data to industrial network
Drag and drop frame builder for custom protocols, no programming required
Trigger serial transactions from the control system with triggers
Transfer data between serial nodes with a general data area
Monitor and control serial nodes from the control system with a live list and data exchange control
Ability to import Communicator Classic configuration file
EtherCAT slave according to IEC 61158 Type 12 (ETG.1000)
Transfer up to 1 486 bytes to and from EtherCAT
Network cycle time down to 100 μs
Supports CANopen over EtherCAT
Addressing modes: Logical, Node, and Position
Commands: APRD, ARMW, APWR, BRD, BWR, FPRD, FPRW, FPWR, FRMW, LRD, LRW, LWR
Synchronization modes: Free Run
Dual RJ45 Ethernet ports with 10/100 Mbit full duplex
Daisy chaining with integrated switch
GENERAL
Dimensions (L x W x H) with serial and power connector
98 x 27 x 144 mm
3.85 x 1.06 x 5,67 in
Weight
150 grams, 0.33 lb
Buttons and switches
Reset button and security switch
LEDs
Gateway, PROFINET and Serial status
IP rating
IP20
Housing material
PC ABS, UL 94 VO
Mounting
DIN rail (35 * 7,5/15)
ENVIRONMENT
| | |
| --- | --- |
| Operating temperature | -25 to 70° C, -13 to 158° F |
| Storage temperature | -40 to 85° C, -40 to 185° F |
| Relative humidity | 0-95% non-condensing |
| Installation altitude | Up to 2 000 m |
POWER
| | |
| --- | --- |
| Input voltage | 12 – 30 VDC |
| Current consumption | Typical: 160 mA @ 24V Max: 400 mA @ 12V |
| Power connector | 3-pin plug with screw terminal |
| Protection | Reverse voltage protection and short circuit protection |
ETHERNET PORTS
| | |
| --- | --- |
| Ports | 2 x Ethernet |
| Isolation | Galvanic isolation |
| Bitrate | 10/100 Mbit full duplex |
| Connector | RJ45 |
| Switch. | A dual port cut-through switch |
ETHERCAT
| | |
| --- | --- |
| Mode | EtherCAT slave according to IEC 61158 Type 12 (ETG.1000) |
| Addressing modes | Logical, node, and position |
| Synchronization modes | Free run |
| Input data size | 1 486 bytes |
| Output data size | 1 486 bytes |
| Network redundancy  | Device Level Ring (DLR), beacon-based |
| Minimum cycle time | 100  μs |
| Features | Supports CANopen over EtherCAT (CoE) |
| ESI File | Available |
CERTIFICATIONS AND STANDARDS
UL
CULUSfile number E214107
CE
2014/30/EU
KC
R-R-ABJ-Communicator
EMC
EN 61000-6-2
EN 61000-4-2
EN 61000-4-3
EN 61000-4-4
EN 61000-4-5
EN 61000-4-6
EN 61000-6-4
EN 55032
Environment
IEC 60068-2-1 Ab
IEC 60068-2-2 Bb
IEC 60068-2-1 Ab
IEC 60068-2-2 Bb
IEC 60068-2-14 Nb
IEC 60068-2-30 Db
IEC 60068-2-78 Cab
IEC 60068-2-78 Cab
Vibration and shock
IEC 60068-2-27
IEC 60068-2-6
Waste certification
WEE
CONFIGURATION
| | |
| --- | --- |
| Configuration software | Web-based configuration |
| Configuration ports | Dedicated 10/100 Mbit RJ45 Ethernet configuration port and Ethernet ports |
SECURITY
| | |
| --- | --- |
| Secure boot | Ensures software authenticity |
| Security switch | Physical switch that enables/disable access to the web-based configuration interface |
PRODUCT PACKAGING
| | |
| --- | --- |
| Content | Gateway, power connector, start-up guide, compliance information sheet |
| Box material | Cardboard |
MEAN TIME BETWEEN FAILURE
| | |
| --- | --- |
| MTBF | > 1500000 h, Telcordia Method I Case 3 at 30° C |
Order Code
 ABC3061
Included components

 

           

Anybus Communicator – EtherCAT
Book your product
We are fully committed to providing our customers with the very best products and customer service. We believe in going the extra mile to ensure that each customer is satisfied with our products and solutions. We have the experience and the reputation in the field to deliver the products customers need to expedite their projects and assure quality every step of the way.