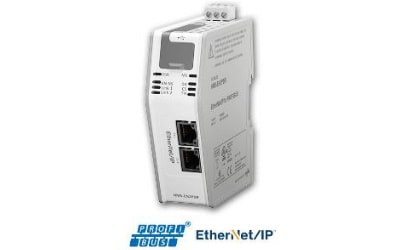 Fast copying I/O Data (Big data support)
The Linking Device's primary function is the fast transfer of large cyclic I/O data between the two networks. There is also support for acyclic data. This offloads your Logix PLC from working with additional calculations.
The Linking Device acts as a slave (adapter) on EtherNet/IP and as a powerful Master on the PROFIBUS side, handling up to 7000 bytes of I/O data. The data transfer between the two networks is completely transparent.
Minimise costs when connecting PROFIBUS networks and devices to ControlLogix® or CompactLogix® controllers with an EtherNet/IP interface.
Connect, Configure, Done!
EtherNet/IP Linking Devices are configured using a Custom Add On Profile for Studio 5000 Logix Designer which dynamically generates data structures based on the configuration. No ladder logic files (add-on instructions) needed.
Furthermore, it also supports the automatic generation of named and structured Studio 5000 controller tags, which eliminates the need to create alias tags.
Seamless integration with Studio 5000
With its unique Studio 5000® Logix designer integration, everything is accessible from within Studio 5000, including PROFIBUS network configuration. No extra 3rd-party software or licenses needed.
Minimise costs when connecting PROFIBUS devices to your PLC. More cost-efficient than an in-chassis solution
Allows support for "Big Data" — handling up to 7000 bytes of I/O data over multiple I/O connections on EtherNet/IP
Speed up configuration through seamless integration with Studio 5000 Logix Designer.
Compatible with all ControlLogix and CompactLogix PLCs supporting EtherNet/IP
Everything configured through Studio 5000 — no 3rd party software or licenses needed
Dynamically generates data structures in Studio 5000 with no required user logic
Configuration of the PROFIBUS network and data structures through Customer Add-On Profile
Routing of acyclic data via predefined CIP objects available for specific PROFIBUS DPV1 read and write requests
Control/Status information added to I/O data for diagnostic purposes
Live List of the active status of connected slaves
No need for long and expensive PROFIBUS cables — use Ethernet cables for the longest distance.
The Linking Device has an integrated powerful PROFIBUS Master interface:
Complete Profibus DP Master functionality according to IEC 61158

Max 3500 bytes in each direction over multiple I/O connections on EtherNet/IP

Controls up to 125 slaves

Acyclic Communication (DP-V1, Class 1 & 2)

Supports all common baud rates up to 12Mbps

Galvanically isolated PROFIBUS interface
The Linking Device has the very latest ODVA EtherNet/IP adapter functionality
Dual EtherNet/IP ports 10/100Mbit, full or half-duplex operation
Beacon-based DLR (Device Level Ring) and linear network topology supported
Support for multiple (Exclusive Owners) I/O connections (Max 10)
ODVA EtherNet/IP conformance tested 
Dimensions  (L•W•H)
110 x 35 x 101mm or 4,33 x 1,38 

x 3,98″

Weight 
184g
Operating temperature
-25 to +60 °C  or  -13 to +140 °F 
Storage temperature
-40 to +85 °C  or  -40 to +185 °F 
Power supply 
24 VDC +/- 20%
Current consumption
Max 300mA, typical 220mA.
Enclosure material
PC ABS, UL94 VO
Installation position  
Vertical
Galvanic isolation
YES, on both BUS/Ethernet side
Mechanical rating 
IP20, NEMA rating 1
Mounting
DIN-rail (EN 50022 standard) or Wall mount
PROFIBUS baudrate
9600 bit/s – 12 Mbit/s
PROFIBUS address  
Node address 0-125
PROFIBUS connector 
D-sub 9-pin female 
EtherNet/IP baud rate 
10/100 Mbit/s autodetect 
EtherNet/IP connector 
2x RJ45
EtherNet/IP address 
Any valid IP address can be used 
TCP/IP settings 
Configurable via BOOTP-DHCP server or via Anybus IP config 
Certifications
ODVA, CE, CULUS, ATEX/Haz.Loc 
| | |
| --- | --- |
| Order Code  | HMS-EN2PB-R  |
| Included components  | HMS-EN2PB-R Linking Device, Installation guide, (Power supply not included) |
| Guarantee  | 3 years  |
Book your product
We are fully committed to providing our customers with the very best products and customer service. We believe in going the extra mile to ensure that each customer is satisfied with our products and solutions. We have the experience and the reputation in the field to deliver the products customers need to expedite their projects and assure quality every step of the way.