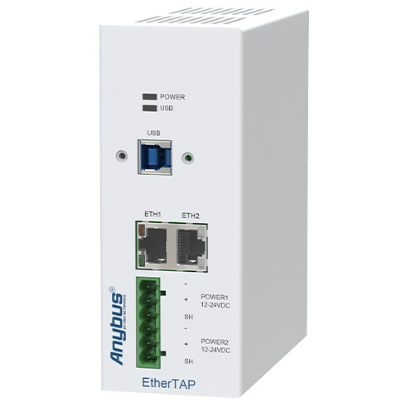 A passive diagnostics solution that can be used around the clock
The EtherTAP2 is a monitoring interface that enables the in-depth analysis of PROFINET and EtherNet/IP traffic. Just like its highly popular predecessor, it acts as a bridge between your industrial network and the Anybus Osiris diagnostics platform.
However, its newly designed housing and improved functionality guarantee the early detection of communication errors and give round-the-clock access to passive diagnostics.
Upgrading the EtherTAP's housing – which is based on the Atlas2 Plus – has turned this handy plug-and-play solution into an effective permanent monitoring solution. First, it's designed to be permanently installed on a DIN rail. It now fits neatly side-by-side with your Atlas2 Plus. Second, it improves heat dissipation in the cabinet, reducing the risk of overheating and boosting efficiency.
Distinctive features
• Passive diagnostics
• Cycle time per device
• Positive and negative message jitter
• Number of dropped packets
• Alarm Triggers
Application example:
• Message recording of the PROFINET and Industrial Ethernet
• Compatible with Anybus Osiris Software for passive diagnostics
• Telegram analysis on bit-level
To make tapping available make sure you have:
• A correct license 
• An EtherTAP placed between two devices communicating over PROFINET
• A running measurement 
Dimensions
| | |
| --- | --- |
| W x D x H (mm): | 52 x 130 x 120 (DIN-Rail clip included; plug-able connectors as amounted in installations excluded) |
| Weight: | 465 grams (excluding plug-able connectors, and packing material) |
| DIN-rail: | 35 x 7.5 mm (IEC/EN 60715) |
 Ambient conditions
Operating temperature range
-20°

 

to +60°

 

Celsius
Storage and shipping temperature
-20°

 

to +85° Celsius
Relative air humidity
Max. 98%, non-condensing
Ingress protection
IP 20

 

(IEC/EN 60529, DIN

 

40 050)
 Power supply
Maximum power use
Max. 3 W
Powered from a USB port

Yes

Connect power supply POW1 and/or POW2 if the USB power supply is not sufficient.

Disconnecting the USB 3.0 cable also interrupts the connected Ethernet cables for 1-2 seconds.

Nominal power supply USB
5 VDC
Current consumption Secondary @5 VDC

Max. 520 mA at 10 Mbps (Full Traffic)

Max. 450 mA at 100 Mbps (Full Traffic)

Max. 600 mA at 1000 Mbps (Full Traffic)

Nominal power supply POWER 1-2
12 to 24 VDC
Current consumption POWER 1-2 @12 VDC

Max. 220 mA at 10 Mpbs (Full Traffic)

Max. 190 mA at 100 Mbps (Full Traffic)

Max. 250 mA at 1000 Mbps (Full Traffic)

Reverse polarity protection
Yes
Pluggable power supply connector

Pin – : 0 V

Pin +: 12 to 24 VDC

Pin SH: Shield

Wire diameter
Max. AWG 14

 

(max area 2.5 mm2)
Installation notes:

The device shall be powered with the correct power supply:

For North America, the power supply shall be listed and meet the requirements for class 2
For the rest of the world, the power supply shall meet the requirements for limited power sources as defined in IEC/EN 60950-1 cl. 2.5

Possible power supplies:
XP-power DNR120-480 series
Phoenix STEP-PS series
Traco power TCL series

 Ethernet
Connector ETH1 and ETH2
RJ-45
Maximum cable length
100 m
Link speed
1 Gbit
Network Link
Galvanically separated
Network Latency

10 Mbps: max. 7600 ± 25 ns

100 Mbps: max. 720 ± 24 ns

1000 Mbps: max. 380 ± 8 ns
 USB Ports
| | |
| --- | --- |
| Port type | USB3.0; Port type B |
 LEDs
Power LED (1)
On: Power Ok
USB LED (2)

Off: No USB cable connected

On: USB cable and USB power connected

Blinking: Constant synchronisation between system time and hardware timestamp.

Link/Activity LEDs (3,4)

On: The Ethernet Port is linked

Blinking: The port is linked and has RX/TX activity (traffic is passing through).

Speed LEDs (5,6)

LED5 On: Operating at 100 Mbps.

LED6 On: Operating at 10 Mbps.

LED5,6 On: Operating at 1000 Mbps.

LED5,6 Blinking: EtherTAP is not connected or trying to connect.

LED5,6 Alternate Blinking: EtherTAP cannot find a common speed between the connected devices.
 System requirements
System type and Operating system

Atlas, Atlas2 Plus; Linux


PC: Dual Core Processor, 4 GB memory, USB3.0 port; Windows 7/8/10 (32-bit & 64-bit)
Standards and Approvals
CE

EMC Directive 2014/30/EU, class A

RoHS Directive 2011/65/EU

Emission: CISPR32

Immunity: CISPR35

FCC
47 CFR 15 & ICES-003 (Issue 6), class A
Order Codes  
513-20021A
Included Components

Anybus EtherTAP2: 1G

Supplied with manual, drivers, 1 x 1m RJ/45, 1 x 1 USB

Additional Information
Works with EtherTAP: PROFINET Analysis License (101-700204), Wireshark, ClearSight, OptiView, NetSpector, OmniPeak, NetDecoder, Packetyzer, Ethertest.
Warranty 
1 year
Book your product
We are fully committed to providing our customers with the very best products and customer service. We believe in going the extra mile to ensure that each customer is satisfied with our products and solutions. We have the experience and the reputation in the field to deliver the products customers need to expedite their projects and assure quality every step of the way.