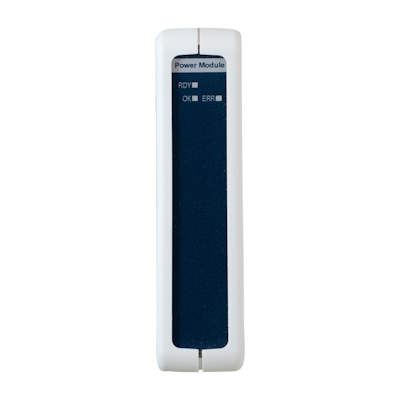 Additional power to the ComBricks backplane in case the Head Station loses power
The Anybus 6A Power module provides additional power to the ComBricks backplane in case the Head Station is no longer able to power all inserted modules.
Multiple power modules can work in parallel and their currents are accumulative with a maximum combined current of 12A.
The power modules can also be used as a redundant power source for the backplane. Diagnostics of the power modules are available on the web server.
Distinctive features
Provides 6 A to the backplane
Maximum combined backplane current: 12 A (provided by all inserted power modules in the least ideal layout)
32 Modules (all slots)
130 mA current consumption
12..30 VDC
Max. 2 A @ 24 VDC (42 W)
Reverse polarity protection
Power: Max. 42W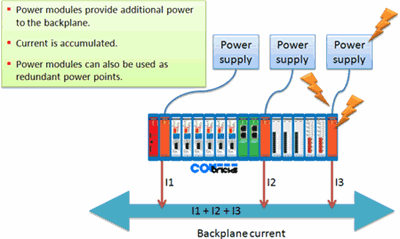 Figure 1 – Backplane current 
Dimensions and weight
| | |
| --- | --- |
| L x W x H: |  133 x 25 x 103 mm (including backplane per module, excluding plug-able connectors) |
| Weight: | 120 g (excluding plug-able connectors, backplane and packing material) |
| Mounting DIN-rail type | 35mm × 7,5mm (EN 50022, BS 5584, DIN 46277-3) |
Ambient conditions
Operating temperature range

-20o … +60o Celsius (for mounting position see manual)

-4o … 158o Fahrenheit

Isolation class
IP 20 (IEC/EN 60529, DIN 40050)
Power supply
Power supply operating voltage range

12 to 24 VDC (tolerance range 6 to 32 VDC)

Typical Current consumption

60 mA at 5.72 VDC (backplane powered)
Power dissipation
Max. 0.34 W at 5.72 (backplane powered)
Reverse polarity protection
Yes
Redundant power supply
Yes (with the second PWR-6A module)
Wire diameter
< 2.5 mm2

Installation notes:

The device shall be supplied from an isolating transformer having a secondary Listed fuse rated either:

Maximum 5 amps for voltages 12 to 20 V, or

Maximum 4 amps for voltages 21 to 24 V,

or is supplied by a Class 2 power supply or equivalent.
Backplane
Module position

 32 (all slots)

Currently available on backplane

6A (including own current consumption typically 130 mA)
Compatible backplane units

101-200011, 101-200022, 101-200023, 101-200024,

101-200027

Installation notes

When using the Power Module, remove power from the Head Station.

If power redundancy is required, use two Power Modules.

When moving the Power Module to a different slot: remove the power before taking out the module.
Connector Layout
Power supply

Plug-able screw connector, pitch 5,08 mm

Pin 1: – (0 V)
Pin 2: + (24 VDC)

Pin 3: SH (Shield)

SH connected internally to DIN-rail with spring-loaded contact
LEDs
| | |
| --- | --- |
| ERR ON | Input voltage too low, or maximum current |
| ERR + RUN OFF | No power supply connected |
Others
Head Station firmware
V1.265 and later
MTBF
3082529 hours, at 30o

 

Celsius, IEC TR 62380
Standard and approvals
CE

EMC Directive 2014/30/EU, class A Digital Device

RoHS Directive 2011/65/EU

FCC
47 CFR 15, Unintentional Radiator, class A Digital Device.
UL

Report reference: E468970

Standards for safety: UL 508 – Industrial Control Equipment CSA C22.2 No. 142-M1987 – Industrial Control Equipment
| | |
| --- | --- |
| Order Codes   | 101-230010 |
| Included Components | Anybus Combrick, backplane socket |
| Warranty  | 1 year |
Book your product
We are fully committed to providing our customers with the very best products and customer service. We believe in going the extra mile to ensure that each customer is satisfied with our products and solutions. We have the experience and the reputation in the field to deliver the products customers need to expedite their projects and assure quality every step of the way.