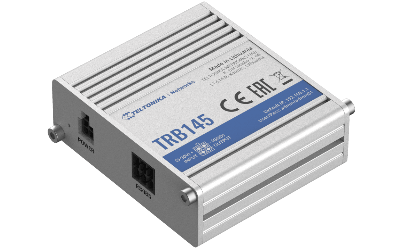 A mission-critical LTE Cat 1 gateway, equipped with RS485 interface
Compact design and easy installation make this gateway perfect for applications, where a sole gadget must be remotely controlled over the RS485 serial interface.
Just like the rest of TRB products, TRB145 is engineered to be used in industrial applications. Therefore, it has a wide range of software features, such as SMS control, Firewall, Open VPN, IPsec, Teltonika Networks Remote Management System (RMS), and FOTA support.
CONNECTIVITY
4G/LTE (Cat 1), 3G, 2G
DURABILITY
Rugged aluminium housing
SERIAL PORTS
Equipped with RS485 for serial communication
9-30V
Wide range of supported power supply voltages
COMPACTNESS
Small size, easy installation
RMS
Compatible with Teltonika Remote Management System
MOBILE
Mobile module
4G (LTE) – Cat 1 up to 10 Mbps, 3G – Up to 42 Mbps, 2G – Up to 236.8 kbps
Bridge
Direct connection (bridge) between mobile ISP and device on LAN
Status
Signal strength (RSSI), SINR, RSRP, RSRQ, EC/IO, RSCP Bytes sent/received
SMS/Call
SMS status, SMS configuration, Call utilities
NETWORK
Network protocols
TCP, UDP, IPv4, IPv6, ICMP, NTP, DNS, HTTP, HTTPS, SSL v3, TLS, PPP, SSH, DHCP, SNMP, MQTT
Connection monitoring
Ping Reboot, Periodic Reboot, LCP and ICMP for link inspection, Wget
Routing
Static routing
Firewall
Port forwards, traffic rules, custom rules
DHCP
Static and dynamic IP allocation
QoS / Smart Queue Management (SQM) (planned)
Traffic priority queuing by source/destination, service, protocol, or port
DDNS
Supported >25 service providers, others can be configured manually
SECURITY
Authentication
The pre-shared key, digital certificates, X.509 certificates
Firewall
Pre-configured firewall rules can be enabled via the WebUI, unlimited firewall configuration via CLI; NAT; NAT-T
Access control
Flexible access control of TCP, UDP, ICMP packets, MAC address filter
VPN
OpenVPN
Multiple clients and a server can run simultaneously, 12 encryption methods
OpenVPN Encryption
DES-CBC, RC2-CBC, DES-EDE-CBC, DES-EDE3-CBC, DESX-CBC, BF-CBC, RC2-40-CBC, CAST5-CBC, RC2-64-CBC, AES-128-CBC, AES-192-CBC, AES-256-CBC
IPsec
IKEv1, IKEv2, supports up to 5 x VPN IPsec tunnels (instances), with 5 encryption methods (DES, 3DES, AES128, AES192, AES256)
GRE
GRE tunnel
PPTP, L2TP
Client/Server services can run simultaneously
SERIAL COMMUNICATION MODES
Modes
Console, OverIP, Modem (Full or Partial control) (planned), Modbus RTU master, Modbus gateway, NTRIP client (planned)
MODBUS
MODBUS TCP SLAVE
ID filtering
Respond to one ID in the range [1;255] or any
Allow remote access
Allow access through WAN
Custom registers
Modbus TCP custom register block, which allows to read/write to a file inside the router, and can be used to extend Modbus TCP slave functionality
MODBUS TCP MASTER
Supported functions
01, 02, 03, 04, 05, 06, 15, 16
Supported data formats
8 bit: INT, UINT; 16 bit: INT, UINT (MSB or LSB first); 32 bit: float, INT, UINT (ABCD (big-endian), DCBA (little-endian), CDAB, BADC)
MODBUS RTU MASTER
Supported baud rates
From 300 to 115200
Supported functions
01, 02, 03, 04, 05, 06, 15, 16
Supported data formats
8 bit: INT, UINT; 16 bit: INT, UINT (MSB or LSB first); 32 bit: float, INT, UINT (ABCD (big-endian), DCBA (little-endian), CDAB, BADC)
Number of data bits
From 5 to 8
Number of stop bits
1 or 2
Parity
None, Even, Odd
Flow control
None, Xon/Xoff
MODBUS DATA TO SERVER
Protocols
HTTP(S), MQTT
MONITORING & MANAGEMENT
WEB UI
HTTP/HTTPS, status, configuration, FW update, CLI, troubleshoot, system log, kernel log
FOTA
Firmware update from sever, automatic notification
SSH
SSH (v1, v2)
SMS
SMS status, SMS configuration
MQTT
MQTT Broker, MQTT publisher
JSON-RPC
Management API over HTTP/HTTPS
Modbus
Modbus TCP status/control
RMS
Teltonika Remote Management System (RMS)
SYSTEM CHARACTERISTICS
CPU
ARM Cortex-A7 1.2 GHz CPU
RAM
128 MB (50 MB available for userspace)
FLASH memory
512 MB (200 MB available for userspace)
FIRMWARE / CONFIGURATION
WEB UI
Update FW from a file, check FW on the server, configuration profiles, configuration backup
FOTA
Update FW/configuration from the server
RMS
Update FW/configuration for multiple devices
Keep settings
Update FW without losing current configuration
FIRMWARE CUSTOMISATION
Operating system
RutOS (OpenWrt based Linux OS)
Supported languages
Busybox shell, Lua, C, C++
Development tools
SDK package with build environment provided
INPUT/OUTPUT
Configurable I/O
2 x Digital Inputs/Outputs (I/O not available in TRB145*2****)
Events
SMS status
POWER
Connector
4 pin industrial DC power socket
Input voltage range
9 – 30 VDC (4 pin industrial socket), reverse polarity protection, surge protection >33 VDC 10μ max
Power consumption
< 5 W
PHYSICAL INTERFACES (PORTS, LEDs, ANNTENAS, BUTTONS, SIM)
RS485
RS485 interface, Full-Duplex (4 wires) and Half-Duplex (2 wires), baud rate 300-115200
I/Os
2 Inputs/Outputs pin on 4 pin power connector (I/O not available in TRB145*2****)
USB
Virtual network interface via USB
Status LEDs
3 x connection type status LEDs, 5 x connection strength LEDs, 1x Power LED
SIM
1 x SIM slot (Mini SIM – 2FF), 1.8 V/3 V
Power
4 pin power connector with 2 x configurable Digital Inputs/Outputs (I/O not available in TRB145*2****)
Anntenas
1 x SMA for LTE
Reset
Restore factory settings button
PHYSICAL SPECIFICATIONS
Casing material
Aluminum housing
Dimensions
64.4 x 74.5 x 25 mm (L x W x H)
Weight
130 g
Mounting options
Bottom and sideways DIN rail, Flat surface, and direct PCB on DIN-Rail mounting options
OPERATING ENVIRONMENT
Operating temperature
-40 °C to 75 °C
Operating humidity
10 % to 90 % non-condensing
Ingress Protection Rating
IP30
REGULATORY & TYPE APPROVALS
Regulatory
CE/RED, EAC, RoHS, WEEE
EMI
Standards
Draft ETSI EN 301 489-1 V2.2.0, Draft EN 301 489-19 V2.1.0, Draft ETSI EN 301 489-52 V1.1.0
ESD
EN 61000-4-2:2009
RS
EN 61000-4-3:2006 + A1:2008 + A2:2010
EFT
EN 61000-4-4:2012
Surge protection
EN 61000-4-5:2014
CS
EN 61000-4-6:2014
DIP
EN 61000-4-11:2004
RF
Standards
EN 300 511 V12.5.1, ETSI EN 301 908-1 V11.1.1, ETSI EN 301 908-2 V11.1.2, ETSI EN 301 908-13 V11.1.2
SAFETY
Standards
IEC 62368-1:2014(Second Edition), EN 62368-1:2014+A11:2017
EN 50385:2017
EN 62232:2017
| Product code | HS code | HTS code | Package contains |
| --- | --- | --- | --- |
| TRB145003000 | 851762 | 8517.62.00 | Standard Package |
STANDARD PACKAGE CONTAINS
TRB145
Euro PSU
1 x LTE antenna (magnetic mount, SMA male, 3 m cable)
Micro-USB cable (0.8 m)
1 x hex key
RS485 connector
QSG (Quick Start Guide)
Packaging box
Book your product
We are fully committed to providing our customers with the very best products and customer service. We believe in going the extra mile to ensure that each customer is satisfied with our products and solutions. We have the experience and the reputation in the field to deliver the products customers need to expedite their projects and assure quality every step of the way.
Copyright © 2022 Industrial Data Xchange. All rights reserved.