Cost-efficient solution for reliable star networks
Due to the demands for high-speed networks, PROFIBUS DP must comply with strict guidelines concerning spur lines. The ProfiHub B5+R is a powerful package to ensure reduced installation complexity, increased time utilisation, and better deployment of project resources. The ProfiHub B5+R is used in several application areas worldwide.  
It is an essential component to obtain better control during maintenance and upgrading of the network. Note: B5+R replaces the standard PROCENTEC B5 unit, providing additional functionality with no physical design changes.
Multi-Channel Repeater 'ProfiHub B5+R'
As an economic solution, the B5+R saves costs through the reduction of traditional PROFIBUS repeaters. This product is equipped with 5 galvanically isolated transparent repeaters on a single unit (offering 6 segments). Each segment can handle 31 devices and a cable length equal to the main bus.
To save costs on plugs and offer flexibility, it contains screw terminals as well as DB9 connectors. The DB9 connectors are also perfect measurement points for ProfiTrace to quickly measure all segments. Termination for each segment is on-board and switchable.
For PROFIBUS network designs, the ProfiHub B5+R offers a reliable and robust backbone solution with robust message checking and selectable redundancy on communication and power supply. The extensive monitoring of messages in combination with redundancy on the communication and voltage makes the ProfiHub the perfect access port for network components. An alarm contact is linked to events based on the status of the power supply and the bus redundancy if this is enabled. Unlimited cascading of repeaters is possible with 1200 meter spur lines.
5 galvanically isolated channels (6 segments)
Configurable grounding system
Redundant power supply
Bus redundancy option
Star, tree, and bus structured networks
Alarm contact
Monitoring port per channel
IP20
Certifications: UL Listed, DNV, FCC, CE
Hot slave insertion/removal during operation
Short circuit protection on each channel
Compact and robust construction
Screw terminals and DB9 connectors can be mixed
Conveniently arranged networks
Extendable installations
Cost saving
General specifications
Dimensions (LxWxH): 167 x 113 x 33 mm
Weight: 490 grams
Material: Aluminium
Fixation: Din rail mounted
Appropriate: DB9 and screw connectors
Ambient conditions
Operating temperature: ‐25° … +70° Celsius
Storage temperature: ‐25° … +70° Celsius
Relative air humidity: 95%
Ingress Protection: IP 20 (IEC/EN 60529)
Electrical specification
Operating voltage: 12 … 24 VDC
Absolute max. rated voltage: 9 … 31 VDC
Nominal power use: 1.75 W
Input current(24VDC): 73 mA
Alarm contact: Max. 24 VDC/0.5 A
Connection speed: 9.6 Kbps .. 12 Mbps (automatic detection)
Standards and approvals
Conformity Marking: CE,FCC
DNV: Certificate number: A-13659
DNV: Temperature D
DNV: Humidity B
DNV: Vibration A
DNV: EMC B
DNV: Enclosure IP20
UL: ITE E365044
EMC immunity of interference acc. to EN 55024 (2010)
EMC emission of interference acc. to EN 55022 (2010) + C1 (2011)
Dynamic spur lines to actuators, flow meters, and pH analysers
Star, tree, and bus structured networks
Removable drives and motors
Outdoor applications with device and cable stress
Roof-mounted devices in tank farms
Dirty and Humid environments
A barrier for non-galvanic isolated equipment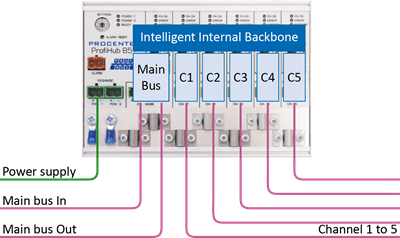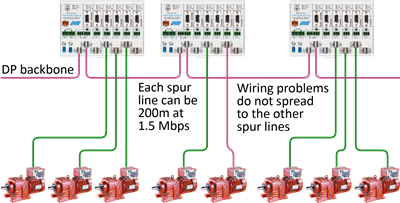 Book your product
We are fully committed to providing our customers with the very best products and customer service. We believe in going the extra mile to ensure that each customer is satisfied with our products and solutions. We have the experience and the reputation in the field to deliver the products customers need to expedite their projects and assure quality every step of the way.
Copyright © 2022 Industrial Data Xchange. All rights reserved.