Create optical redundant ring topologies with single-mode fiber optics
The ComBricks Fiber Optic Ring module for single-mode technology (ComBricks FO Ring SM) ensures reliable optical data transmission in PROFIBUS networks. This multifunctional module is specifically designed by PROCENTEC to create optical redundant ring topologies with single-mode fiber optics.
It allows long cable distances up to 30 km and galvanic isolation between devices and segments. The ComBricks FO Ring SM module is especially suitable for applications in heavy EMC environments such as water treatment, mines, and tanks.
The ComBricks FO Ring MM module
The ComBricks FO Ring SM module contains diagnostic LEDs which indicates the detection of a low level on the optics. Just like any other communication module, the channels are connected directly to the ProfiTrace OE core in the Head Station. An advanced email functionality will alert you when faults like low levels or broken rings arise. Because busmonitor data is directly available in the web server, it allows technicians to optimal maintain a PROFIBUS installation.
ComBricks FO Ring SM can be placed side by side with repeater modules allowing spur line diagnostics. It can also easily be used as a fully dedicated fiber optic modules mixed with copper segments. The advanced 12 Mbps core of the fiber optic module can be cascaded unlimitedly with other fiber modules.
Product features
Fiber optic characteristics
2 Fiber channels (multi-mode)
Max. 5 km cable length
Ring, point-to-point, and line topologies
4 ST/BFOC connectors
Multi-mode cable G62.5 / 125 (OM1) – 1310 nm
Ring redundancy (switchable)
No limit to cascading
Optical budget: 13dB
Optical loss: 2dB per km
Head station firmware: 1.288 and higher
ComBricks characteristics
Low-level display
Event emails
Protocol
Transparent for all PROFIBUS protocols
9.6 kbps – 12 Mbps (auto-detection)
No address required
Transmission speed detection: Auto detect (< 10 s detection and 50 s time out)
Delay time (per ring module): 2 TBit at 9.6 kbps .. 19.2 kbps; 3 TBit at 187.5 kbps .. 45.45 kbps; 4 TBit at 500kbps; 10 TBit at 1.5 Mbps; 20 TBit at 3 Mbps; 40 TBit at 6 Mbps; 80 TBit at 12 Mbps
Backplane
4 Networks selectable with switches
10 Modules (positioned in the first 10 slots)
Power supply: provided through the backplane
Compatible backplane units: 101-200011, 101-200012, 101-200023, 101-200024, 101-200027
Others
Dimensions (LxWxH): 115 x 100 x 25 mm (without backplane)
Weight: 122 g
Operating temperature: 0 .. 60 °C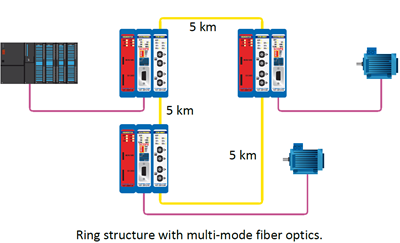 Book your product
We are fully committed to providing our customers with the very best products and customer service. We believe in going the extra mile to ensure that each customer is satisfied with our products and solutions. We have the experience and the reputation in the field to deliver the products customers need to expedite their projects and assure quality every step of the way.
Copyright © 2022 Industrial Data Xchange. All rights reserved.