4 Channel Relay Module 5 A – 230 VAC Type 1
The relays can be configured in the COMbricks web server (Output Control menu) to respond directly to bus problems like; bus voltage too low, master lost, and retries. This offers great applications to directly and independently act on the machine/process when bus communication becomes unreliable. Especially when the safety of human lives or the environment comes first.
Power switches, hold switches, indicators, backup systems, device I/O, doors, and LED towers are examples of machine parts that can be hooked up to the relays. The configured settings are saved and activated after reset or power-up.
Relays
4 Relays (2 on the front, and 2 on the bottom)
5 A – 230 VAC per relay (direct load)
300 mOhm resistance (including connectors)
100.000 Toggles at 5 A ? 230 VAC
Connectors
3 Pins per connector (No, Common, Nc)
< 2.5 mm2 wire diameter
Stranded or solid core wire
Webserver
Every channel can be customized
Manual ON/OFF
Timer ON/OFF
Event: Retries, Lost, Bus voltage too low, etc.
Backplane
Controllers: Web server, PROFINET IO device, PROFIBUS DP slave
32 Modules (all slots)
225 mA current consumption
Power supply: provided through the backplane
Compatible backplane units: 101-200011, 101-200012, 101-200023, 101-200024, 101-200027
Others
Required Head Station firmware: V1.260 and later
Operating temperature: 0 .. 60 °C
Dimensions (LxWxH): 140 x 110 x 25 mm (without backplane)
Weight: 125 g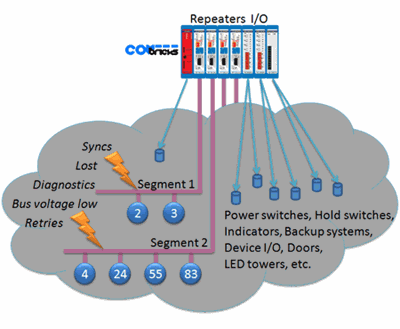 Book your product
We are fully committed to providing our customers with the very best products and customer service. We believe in going the extra mile to ensure that each customer is satisfied with our products and solutions. We have the experience and the reputation in the field to deliver the products customers need to expedite their projects and assure quality every step of the way.
Copyright © 2021 Industrial Data Xchange. All rights reserved.