Easy Troubleshooting, Maintenance, and Monitoring
The Procentec Mercury is a robust tablet that features Procentec's new cross-platform software package. This device is perfect for troubleshooting, maintenance, and monitoring Industrial Ethernet and PROFIBUS networks, through in-the-field-use of Procentec's software.
The Procentec Mercury enables you to gain insight into the health and possible faults in your industrial network. While developing this innovative product, the user was, and remains, the main focus. This means the Procentec Mercury offers an easy to use interface, remote and wireless connection, and mobility anywhere and any place.
Combining the power of the Procentec product portfolio
The Procentec Mercury is based on the same software as the Procentec Atlas for Industrial Ethernet diagnostics and therefore offers the same Ease-of-Use and intuitive user interface. When combining the Procentec Mercury with Procentec ProfiTrace, it offers a new software package for troubleshooting Procentec networks.
Additionally, it also ties in with ComBricks Head Stations, providing detailed information about the attached Procentec networks. The advantage of this is that facilities working in a mixed architecture or transitioning from Procentec to Industrial Ethernet have all network information available in one, easy to understand overview.
Portable device 2-in-1 device
PROFIBUS and Industrial Ethernet diagnostics
Pre-installed software
P

ortable device, multiple connection methods.

User friendly

Pre-installed software

Ready to use immediately

Can be connected remotely

Mobility

Diagnostics for all your Industrial Ethernet and PROFIBUS networks in your facility
Topology: galaxy, tree, or customised view

Dynamic interactions for a complete overview

Device connections, with NAMUR status

Device information

Network scoring mechanism

Traffic light feature

Customisable dashboard
When the PROCENTEC Mercury is plugged into an Industrial Ethernet network, it creates a clear overview of all devices and how they are connected in the network, such as the topology. This topology can be viewed in the galaxy view, hierarchic tree view, and the customizable view where you can easily create your own personal view snapping the nodes to the underlying grid.
This customised view can be saved and exported, which means it can also be utilized easily at different locations with the same set-up. Significant information about a device or connection will appear in the topology by clicking on it. This data is displayed with clear NAMUR NE 107 icons identifying where problems are occurring in the network. A device list and alarm list that can be exported as CSV files, make it easier to document or further analysis of the network.
Collecting information about the quality of the network is important, but very complicated in most tools. The PROCENTEC Mercury provides this information in an easy way through the Q-Factor (Quality Factor). This feature can be found on the dashboard and works with a weighted algorithm to score the quality of the network. The Q-Factor can be shown in different ways; from 0 to 5000, according to the automotive standard, or from 0 to 100% as a relative display of the quality of the network. A simpler overview can also be provided through the traffic light feature, which can show the status in three colors.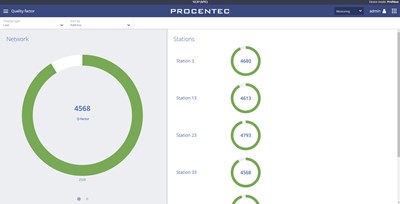 Bus monitor for DP and PA with powerful statistics

Oscilloscope

Topology scan

Bar graph

Reporting

Traffic light feature
When the PROCENTEC Mercury is plugged into a PROFIBUS network, it works with the same software as our ProfiTrace toolkits in order to analyze the network. The PROCENTEC Mercury is very easy to use and it combines all required elements to detect PROFIBUS faults. Typical PROFIBUS failures such as noise, reflections, voltage drops, termination problems, double addresses, wire breaks, and configuration faults are quickly identified. By being able to identify faults quicker, they are usually also resolved quicker, which leads to minimisation of expensive downtime in your installation.
Similar to Industrial Ethernet, collecting information about a PROFIBUS network is crucial. To collect this information, the ProfiCore, which is part of our ProfiTrace, is used. Customers who already own a ProfiCore can use it with the PROCENTEC Mercury as well. With the built-in oscilloscope, noise, reflections, and termination problems can be detected. Messages can be recorded and a Live List continuously shows all the available devices. Additionally, a network condition indicator shows the condition of the installation, without doing any difficult tasks.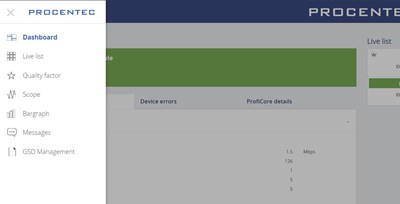 Book your product
We are fully committed to providing our customers with the very best products and customer service. We believe in going the extra mile to ensure that each customer is satisfied with our products and solutions. We have the experience and the reputation in the field to deliver the products customers need to expedite their projects and assure quality every step of the way.