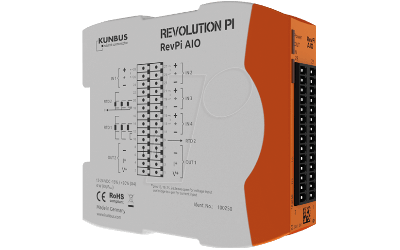 By using this expansion module you can connect analog sensors, actuators, and temperature sensors to your Revolution Pi system.
Besides three different digital I/O expansion modules, an analog I/O expansion module is also available. By using RevPi AIO, a Revolution Pi system is expanded by 4 analog inputs, 2 analog outputs, and 2 RTD channels. Like all I/O modules, RevPi AIO features a 28-pin I/O connector at the front.
Analog Inputs
Inputs, Outputs, and RTD channels are galvanically isolated to each other and to the logic circuit. RevPi AIO is protected against interference according to EN 61131-2 requirements and may be operated from -30 °C to 55 °C ambient temperature. Furthermore, the analog I/O module is UL certified (UL-File-No. E494534).
RevPi AIO features 4 analog inputs, equipped with a 24 bit ΔΣ DAC for connection analog sensors, like a level or proximity sensor. Supported input ranges for voltage and current:
Voltage input range:
0 – 5 V
0 – 10 V
+/- 5 V
+/- 10 V
Current input range:
4 – 20 mA
0 – 20 mA
0 – 24 mA
+/- 25 mA
Analog Outputs
RevPi AIO features 2 analog outputs with a 16-bit resolution for connecting analog actuators. Supported output ranges for voltage and current:
Voltage output range:
0 – 5 V
0 – 10 V
+/- 5 V
+/- 10 V
0 – 5.5 V
0 – 11 V
+/- 5.5 V
+/- 11 V
Current output range:
4 – 20 mA
0 – 20 mA
0 – 24 mA
RTD Channels
Besides 4 analog input channels, RevPi AIO also features 2 separate RTD input channels. The 2 RTD inputs enable temperatures to be measured with high precision from -165 °C to +600 °C in steps of 0.5 °C using common RTDs sensors like Pt100/Pt1000 probes. The probes can be connected directly to the module with 2, 3, or 4 cables.
Book your product
We are fully committed to providing our customers with the very best products and customer service. We believe in going the extra mile to ensure that each customer is satisfied with our products and solutions. We have the experience and the reputation in the field to deliver the products customers need to expedite their projects and assure quality every step of the way.
Copyright © 2022 Industrial Data Xchange. All rights reserved.