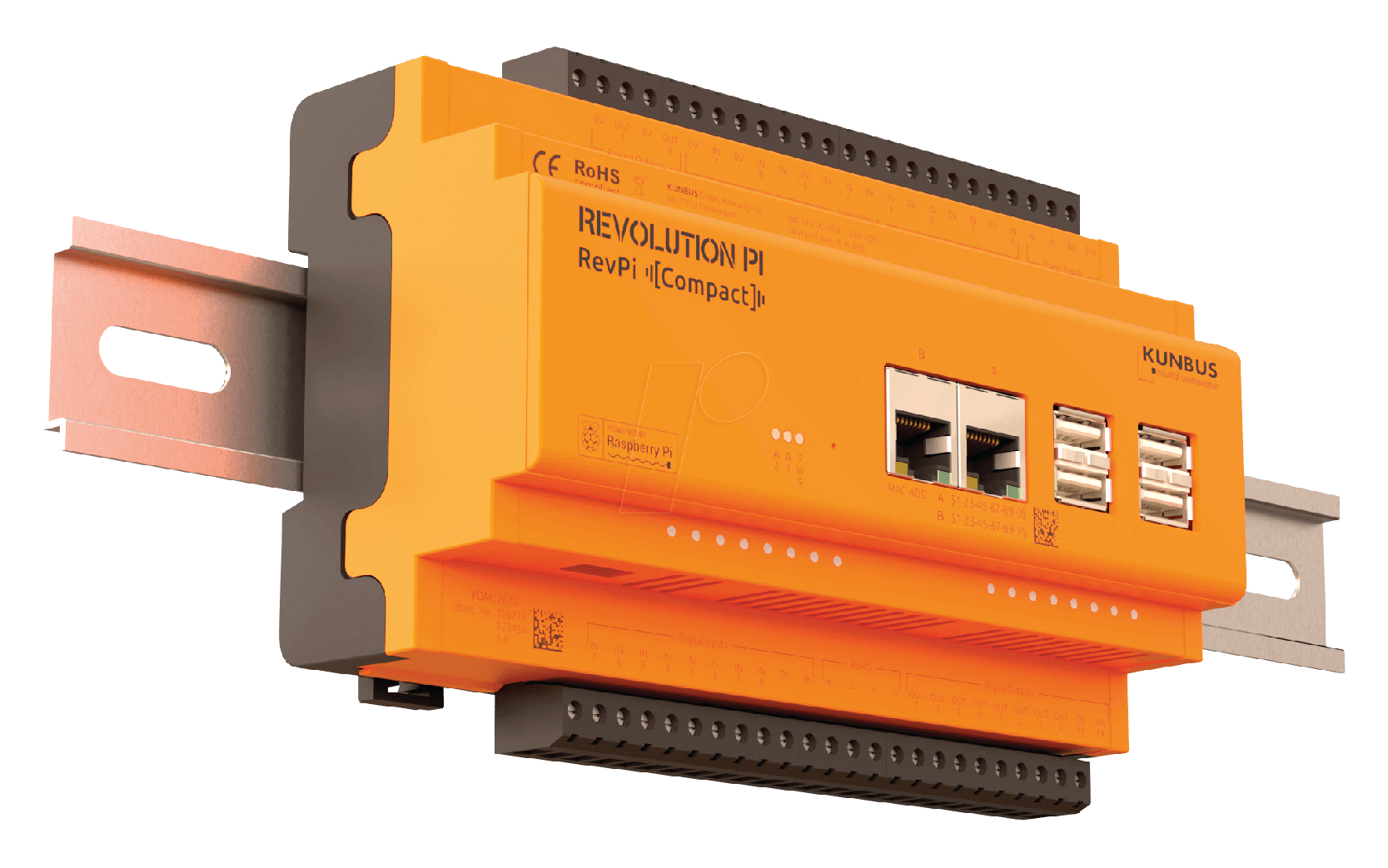 One Device – Fully Packed. Get your projects done with RevPi Compact,
the open-source device based on Raspberry Pi.
The RevPi Compact is an open-source compact controller based on the Raspberry Pi. Equipped with the Raspberry Pi Compute Module 3+, the control system has a quad-core processor with 1.2 GHz, 1 GB RAM, and 8 GB eMMC flash memory. The open platform concept (including full root rights) allows the user maximum freedom of design when implementing his projects.
More about the Base Module
To connect sensors and actuators, the RevPi Compact is equipped with eight digital and analog inputs as well as eight digital and two analog outputs. Two Ethernet interfaces (each with its own MAC address) enable the device to be integrated simultaneously in two different networks. The device also has a 4-pole RS485 interface with screw terminals.
The low profile design allows the device to be installed in sub-distribution systems, which are commonly found in building automation. The operating system used is an adapted Raspbian with a real-time patch. Individual applications can be programmed via Node-RED, Python, or directly in C. The popular industrial protocols Modbus RTU and Modbus TCP are supported as standard. Those who do not want to program themselves can optionally use professional soft PLC and SCADA software for control and visualisation.
A large number of I/O interfaces integrated
Contrary to the standard Revolution Pi design, the RevPi Compact is not modular. In order to meet the most common application requirements, the RevPi Compact is equipped with a large number of digital and analog inputs and outputs.
The device has eight digital inputs and 8 digital outputs. For analog sensors or actuators, the device is also equipped with 8 analog inputs (0 – 10 V) and 2 analog outputs (0 – 10 V). The inputs and outputs can be wired via screw terminals located on the top or bottom of the instrument.
Simultaneous operation in two networks
The two separate Ethernet interfaces of the RevPi Compact allow the device to be integrated into two different networks at the same time. For example, sensor data from the OT network can be transferred from the shop floor to the RevPi Compact via Modbus TCP and sent further into the cloud or a higher-level IT system using MQTT or OPC UA.
Open-source
Even though Revolution Pi is an open system where everyone can install their own operating system and software, we have tried to provide Revolution Pi with software and apps that cover most use cases. As an operating system, we use a customised version of Raspbian, which among other things has a real-time patch of the kernel. In our opinion, this is the best compromise to stay as close as possible to the original development environment of a Raspberry Pi and still get a high level of control over the priorities of the tasks the scheduler manages.
With this modified kernel, the scheduler that controls the execution of tasks by the operating system can be extensively configured to avoid the delays usually caused by network and other I/O accesses. Suitable drivers for the expansion modules are of course already pre-installed.
Modbus capabilities
The RevPi Compact already has master and slave capability for the popular network protocols Modbus RTU and Modbus TCP. Modbus TCP works with the RevPi Compact's existing Ethernet interfaces (i.e. via the RJ45 sockets on the front panel) or any other added Ethernet connection (e.g. USB WLAN adapter) that provides the TCP/IP protocol. Modbus RTU can be implemented via the 4-pin RS485 connector. The master and slave configuration is controlled by our browser-based, graphical configuration software PiCtory.
Node-RED
The pre-installed open-source software Node-RED is an excellent tool for the realisation of simple automation tasks and rapid prototyping.
Specifications
Processor
Broadcom BCM2837B0 with quad-core ARM Cortex-A53
Clock rate
1.2 GHz
RAM
1 GB
eMMC flash memory
8 GB
EERAM persistent memory
2 kB
Power supply
typ. 24 V DC (10.8 … 28.8 V DC)
Max. power consumption
20 W

 

(incl. 10 W USB)

Housing type
DIN rail housing

 

(for DIN rail version EN 50022)

Housing material
Polycarbonate
Dimensions (H x W x D)
90 x 160.6 x 58 mm
Weight
approx. 290 g
Protection class
IP20
Operating temperature
-20 °C…+55 °C
Storage temperature
-40 °C…+85 °C
Humidity
93 %

 

(non-condensing)

EMC interference emission
according to EN 61000-6-4
EMC immunity
according to EN 61000-6-2
CE, RoHS conformity
Yes
Interfaces
2 x RJ45 10/100 Ethernet

 

(using separate MAC addresses)
4 x USB A

 

(total current draw from all sockets max. 2 A)
1 x HDMI socket
1 x Micro-USB (

solely for image transfer to eMMC)
1 x RS485 max. 500 kbps, termination switchable by software

 

(not galvanically isolated)
8 x Digital Inputs
Input threshold: At 24 V DC compatible to type I and III sensors according to EN 61131-2

8 x Digital Outputs


High-side with 10 k pull-down resistor, short-circuit proof (internal temperature switch-off), potential separation system/digital outputs. Maximum current load: Per output: 500 mA @ 24 V DC (resistive load!). Sum of all outputs: max. 2 A @ 24 V DC (resistive load!)
8 x Analog Inputs


0-10 V DC, single-ended, 16 Bit at piControl, 21 Bit raw value, software switchable current source 2.5 mA
2 x Analog Outputs
0-10 V, short-circuit proof, protection against back feeding, 8-bit resolution,
1 % accuracy, max. current load 10 mA (10 V DC @ 1 k)
Book your product
We are fully committed to providing our customers with the very best products and customer service. We believe in going the extra mile to ensure that each customer is satisfied with our products and solutions. We have the experience and the reputation in the field to deliver the products customers need to expedite their projects and assure quality every step of the way.
Copyright © 2022 Industrial Data Xchange. All rights reserved.