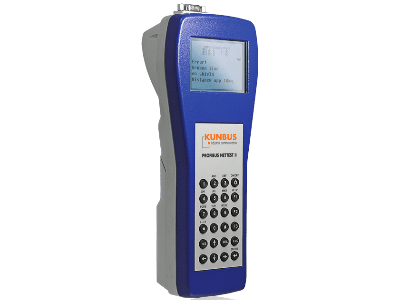 Easily integrates a complete physical cable test
Most frequent errors, such as installation errors, short circuits, line, or shielding breakages can be detected and resolved prior to the actual operation – regardless of whether the DP Slaves are connected, disconnected, powered-on, or powered-off. NetTEST II detects the length and the wave impedance of the connected PROFIBUS cable.
Features
NetTEST II allows the adjustment of different sensitivity levels up to the millivolt range. If even with the highest sensitivity no errors are detected, this assumes the highest installation quality. In addition, NetTEST II also generates a Slave list, detailing the ident numbers of all operable DP Slaves and evaluating the transmission level of the RS485 interface.
During normal operation with the PLC, transmission and reception levels can be checked for unacceptable values or reflections and the actual baud rate can be indicated. All results are filed in a detailed test record. Up to 20 detailed test records can be filed and printed on a standard PC without any additional software.
A-line check via NetTEST II at the beginning or end of each PROFIBUS DP segment runs in three steps:
Test without terminator: Both bus terminators must be switched off.
Test with one terminator: Bus terminator at the distant bus end must be switched on and powered.
Test with two terminators: Both of the bus terminators must be switched on and powered. In case the second bus terminator is powered via the PLC (active PROFIBUS Master), the bus disconnector included in the delivery package can be used for disconnecting the signal lines.
Analysis of permanent running networks
Even if it is not possible to switch off the active PROFIBUS network, NetTEST II is able to perform detailed error detection due to its high performing Online Functionality.
NetTEST II analyses every aspect of the data traffic and the physical state of the PROFIBUS line and triggers any communication status changes. So even sporadically failing Slaves can be detected easily.
In detail the following analysis functions are available:
Baud rate detection: Detection of the network speed and measurement and evaluation of the overall signal level
Rotation time: Calculated time to scan all configured Slaves
Live List: List of all connected bus subscribers separating Masters and Slaves
Slave – Signal Level: Measurement and evaluation of every Slave's signal quality
Network statistic: Permanent monitoring of every Slave's communication status and detection of sporadic transmission errors: – Wrong telegrams – Retries – Slave dropouts
Slave event triggering: Detailed analysis of problematic Slaves
Test records: Automatic creation of test records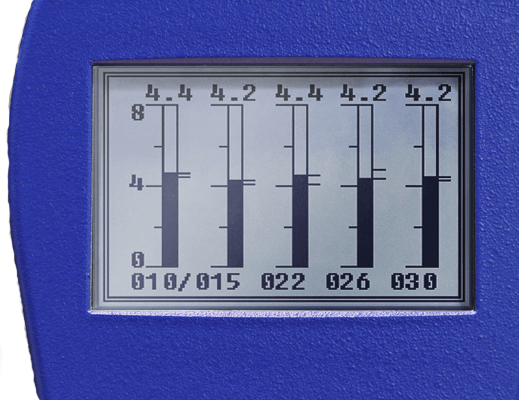 Commissioning of DP-Slaves
NetTEST II is an outstanding tool for mobile commissioning of DP Slaves. The entire PROFIBUS network can be set into operation without PLC.
The I/O data of the connected DP Slaves can be visualised and modified in a comfortable manner, thus allowing effective testing of the connected sensor/actor technology.
PROFIBUS diagnostics data are broken down and displayed in separate positions with regard to system, module, and channel in accordance with the corresponding standards.
Configuration of the different DP Slaves can be done on the NetTEST II directly or on the PC by means of the KUNBUS PROFIBUS Configurator, a standard component of the delivery.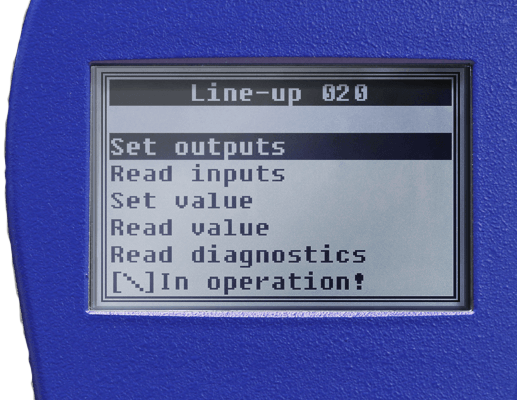 Product highlights
The KUNBUS NetTEST II is an essential must-have analysis and test tool for the successful operation, maintenance, and service of any PROFIBUS network. The cable test sets standards and allows the efficient analysis of all entire installation and configuration problems.
The high power Online Mode detects also sporadic errors in continuously running networks. The DP Mono Master Option is an outstanding tool for the mobile commissioning of DP Slaves without using a PLC. The automatic generation and the filing of detailed test records fulfill all requirements of state-of-the-art quality management systems.
Easy-to-use hand-held tool
Detection of installation errors, short circuits, line or shielding interruptions (even on the very end of the cable)
Measurement of cycle time, signal levels, telegram repetitions and error telegrams, automatic baud rate scan, generation of bus statistics, detection of sporadically failing DP Slaves
Detailed test record (up to 20 test reports can be stored and printed on a standard PC without any additional software)
Generation of a checksum to control if the test report is manipulated
DP Mono Master functionality: The I/O data of the connected DP Slaves can be visualised and modified without PLC
Online functionality: live list, signal level measurement, the cycle time of the DP network, level display of each DP Slave, event triggering in the DP network
Display
LCD 128 x 64 pixel matrix screen with background illumination & protective glass
Keyboard
4 x 6 Key Silicone Keyboard
Speaker
Piezo-Beeper
Quartz clock; backup w/o battery
t ≥ 14 days
Connections
PROFIBUS RS485 (DB9 socket connector)
RS232 (DB9 socket connector)
PROFIBUS data rates
9600 bit/s – 12 Mbit/s
PROFIBUS Slot Time Range
300 – 5000
RS232 data rates
300 – 115200 bit/s
RS232 interface protocol (Data bits/parity/stop bit)
7E1, 7E2, 7O1, 7O2, 7N1, 7N2, 8E1, 8E2, 8O1, 8O2, 8N1, 8N2
RS232 – protocol
Kermit
Test area cable length
5 m … 1.500 m
Measuring inaccuracy with connected devices
±5 %
Measuring inaccuracy w/o connected devices
±2 m
Measuring area line impedance
0 Ω – 250 Ω
Measuring inaccuracy line impedance
±5 %
Measuring range RS485 level
0.0 Vss … 8.0 Vss
Measuring inaccuracy with level detection
±200 mV
Power Supply
Battery pack 4.8 V/1.500 mAh NiMh
Operating duration with one battery
≥4.5 h w/o background illumination.
≥4 h with background illumination
Weight (incl. battery)
530 g
Dimensions
230 x 98 x 53 mm (LxWxH)
IP code
IP50
Operating temperature range
+10 °C … +40 °C
Storing temperature range
-20 °C … +45 °C
Short circuits between the signal lines A and B by stating the precise distance in meters
Short circuits between the signal lines A or B and the shield by stating the precise distance in meters
Signal line or shield rupture by stating the precise distance in meters
Interchanged signal lines A-B
Incorrect or missing bus terminators
False position of bus terminators
Non-permissible cable length
False wave impedance of the bus line
The wrong type of cable
Reflections
Poor transmission or reception levels
Non-permissible branch
Live List of the connected Slaves
Ident numbers of the connected Slaves
The signal level of the connected Slaves
Baud rate detection and all over the signal level of the running network
NetTEST II Basic System + DP Mono Master + Online Option in a service case, including 2 batteries, international battery charger, power supply adapter, RS232 cable, PROFIBUS stub line, PROFIBUS T connector, bus disconnector, three gender changers, PROFIBUS configurator, user manual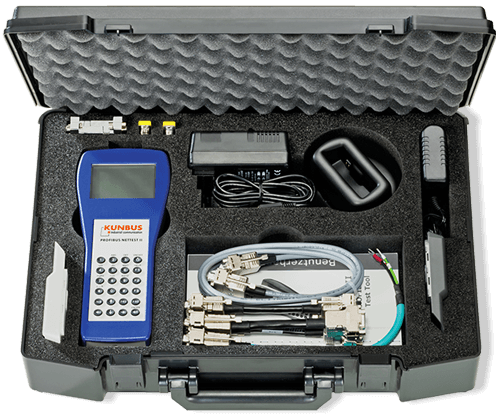 Book your product
We are fully committed to providing our customers with the very best products and customer service. We believe in going the extra mile to ensure that each customer is satisfied with our products and solutions. We have the experience and the reputation in the field to deliver the products customers need to expedite their projects and assure quality every step of the way.
Copyright © 2021 Industrial Data Xchange. All rights reserved.