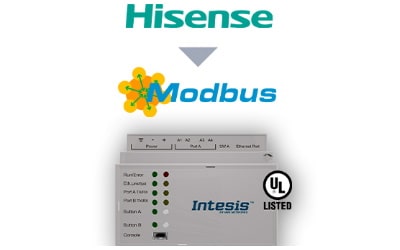 Easily integrate AC units into Modbus systems
The Hisense-Modbus gateway allows fully bi-directional communication between Hisense VRF systems and Modbus RTU (RS-485) networks. The gateway is wired directly to an indoor unit. This allows not only the control of the main AC functions such as operating mode, fan speed, temperature setpoint…but the monitoring of errors, alarms, and some internal variables.
The product can be installed and set up in a really short time. It's only a matter of wiring the gateway to the AC unit and configures the DIP-SW accordingly. No configuration software and no power supply are required.      
The consistent Modbus register mapping used for all AC brands helps to improve the integration time of each project.
Ensure energy savings
Intesis AC gateways allow reducing considerably the energy consumption of buildings while contributing to environmental protection.
Improve user's comfort
The goal is to reduce energy while improving the user's comfort. With Intesis these are not mutually exclusive outcomes!
Leading with leaders
We are the indisputable market leader in AC integration thanks to having the continuous support of the major AC manufacturers.
UL Certified
Direct access to the outdoor unit's communication bus.
Scan: Automatic identification of the units presents in the VRF system.
The outdoor unit's signals are available for integration.
The interface is a Modbus slave able to manage Modbus TCP and Modbus RTU simultaneously.
Up to 6 Modbus TCP clients (incoming sockets) are supported.
Datalogging through the external USB port.
Configuration through IP or USB (Console) port.
Front cover LED indicators to provide easy to check communication status on both the Ethernet and serial ports.
Automatic updates for both Intesis MAPS and interface firmware.
ORDER CODES:
| | |
| --- | --- |
| INMBSHIS016O000 |  Hisense VRF systems to Modbus TCP/RTU Interface – 16 units |
| INMBSHIS064O000 |  Hisense VRF systems to Modbus TCP/RTU Interface – 64 units |
Intesis Gateway.
Installation Manual.
USB Configuration cable.
(Power supply not included).
Warranty: 36 months.
Book your product
We are fully committed to providing our customers with the very best products and customer service. We believe in going the extra mile to ensure that each customer is satisfied with our products and solutions. We have the experience and the reputation in the field to deliver the products customers need to expedite their projects and assure quality every step of the way.