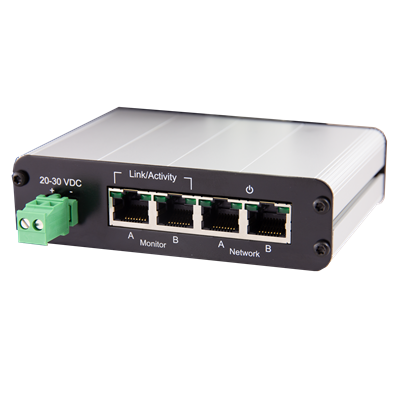 Passive diagnostic information at an impressive speed
Developed to gain on-demand, passive diagnostic information from multiple networks, The Anybus EtherMIRROR is a measuring point that can be easily installed on any Industrial Network running on PROFINET or Ethernet/IP.
Working in conjunction with Anybus EtherTAP, EtherMIRROR works impressively to gain passive diagnostic information while remaining invisible to the network. The device is available in two speeds: 10/100 Mbit and 1Gbit. 
The primary advantage of EtherMIRROR is the avoidance of costly downtime, achieved by accessing passive diagnostic information without ever having to break the connections.
Once the EtherTAP and the EtherMIRROR connect, the pair work harmoniously to continually mirror all messages flowing between the PLC and the first Switch. Valued data, such as dropped packets, message jitters, cycle-times, and message recording are transferred instantly.
10/100 Mb it or 1 Gbit Speed
Transparent measurement port
Compatible with EtherTAP 10/100 Mb or 1Gbit
Book your product
We are fully committed to providing our customers with the very best products and customer service. We believe in going the extra mile to ensure that each customer is satisfied with our products and solutions. We have the experience and the reputation in the field to deliver the products customers need to expedite their projects and assure quality every step of the way.